Here are a couple of ways to use Internet shopping to donate to us. Follow these schemes and we'll receive a contribution.
More info? Call us on +44 (0) 1825 147217. Or email us at info@childrenofpeace.org.uk
HOW GIVE AS YOU LIVE WORKS

STEP 1
Join GAYL and install the browser toolbar. Now, when you Google for shopping, you'll see a GAYL badge on those store links signed up to donate.

STEP 2
There's loads of big names like iTunes, John Lewis, Sainsbury's. Purchase as normal. The GAYL toolbar app notes this and typically we get a few percent of your total shop.

STEP 3
That's it! And over time, the percentages donated to Children of Peace, add up. Best of all it doesn't cost you any extra to raise this money, as it's the retailer who donates.
What is Give as you Live?
Give as you Live is a price comparison website with a heart for charities. You can shop for products from nearly 4,000 online retailers.
if you install the GAYL toolbar, it tells you when you're on a partner site. You shop and automatically a percentage donation ends up with Children of Peace. Easy!
You can also login and use the GAYL price comparison tool to get a best price (and use offers). And then go the stores to shop and get us a donation. Relevant for Amazon*.
Where does the money come from?
Like other comparison sites, GAYL generates money through affiliate marketing. This means retailers pay them a commission when an associated sale is made and they pass on a major part to us.
How to set it up?
1. Click or tap the pic below and go to our GAYL webpage. Sign up and set a password.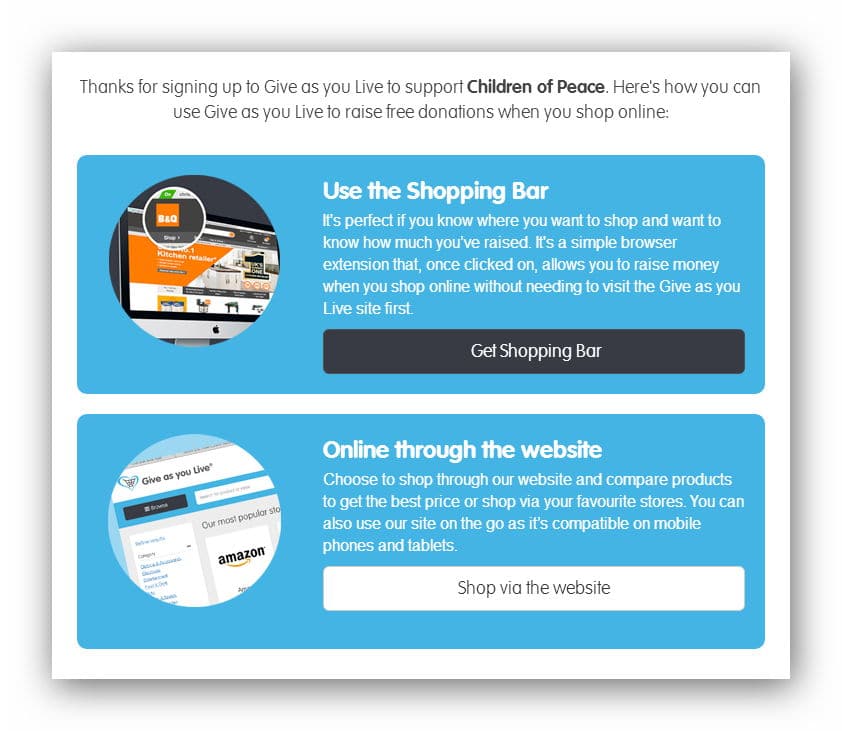 2. Signing up involves GAYL sending you a confirmation email. Click the link to confirm, and you'll see an invitation to install the 'Shopping Bar'. We recommend you do. The process is simple and the site works out what browser you're using.
* Note, Amazon recently blocked showing toolbars like this. They will still pay up to 1.5% donation but you have to go through the GAYL site. The pic below links to that page.
3. Now when you search using say, Google, the results show the GAYL-friendly sites. Click one, go there and the shopping toolbar shows at the top of the screen.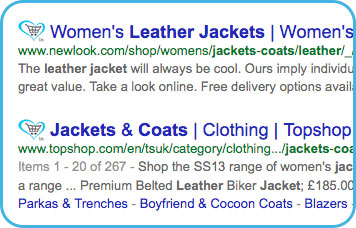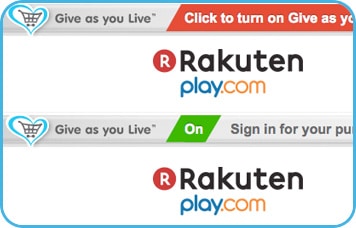 4. Switch the GAYL toolbar to 'ON' and it goes green. Then you shop as normal, check out, and a percentage will automatically go to Children of Peace.
And for that, we thank you very much!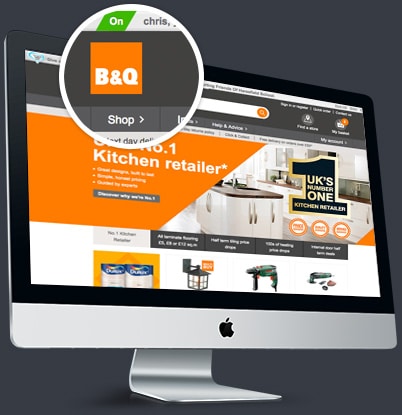 When you need UK car insurance can we ask you to try MONKEY alongside other comparison sites? Go there (click or tap a picture here), click 'Get a Quote' and choose Children of Peace.
Then proceed as usual to get quotes, and if you choose to go with this site's deals, then we get a £10 donation, for which we'll be most grateful.