CHILDREN OF PEACE – TREES FOR PEACE CAMPAIGN
Palestinian farmers have harvested olives for generations. Their livelihood depends on the bounty of the magnificent trees, some hundreds of years old. Unfortunately some are vandalised by small groups of extremist settlers. That's why we are supporting Rabbis for Human Rights in a campaign to replant trees for the farmers.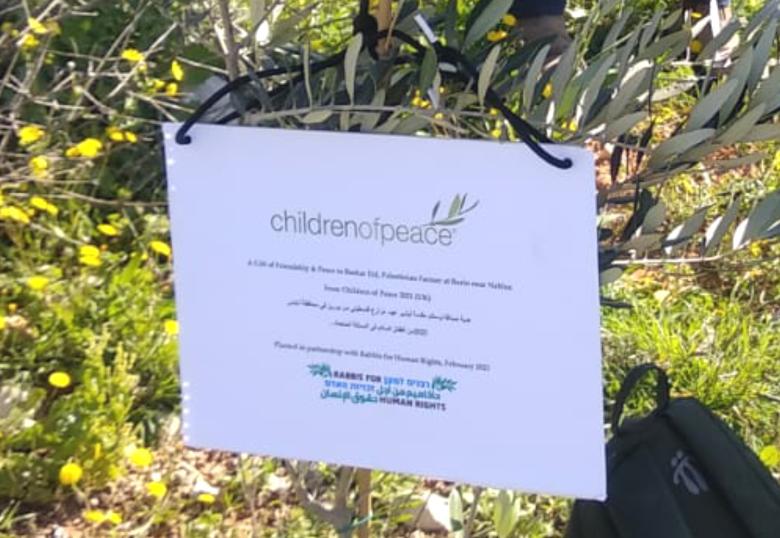 Here's a young tree planted with Children of Peace support. With a sign to thank us.
Find out more, or…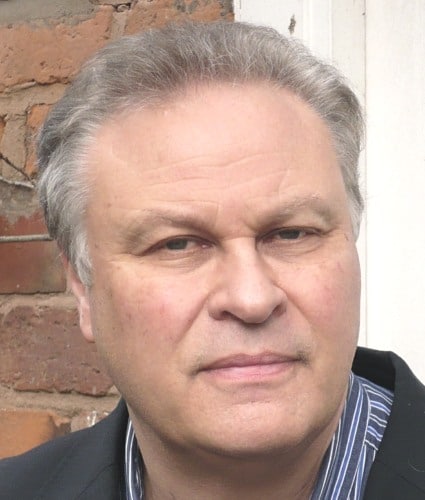 "Blind hatred leads us all into a much darker place."
The olive tree is first mentioned in the Old Testament when the dove returned to Noah's ark carrying an olive branch in its beak (Gen. 8:11). Since that time, the olive branch has been a symbol of 'peace' to the world. 'Extending an olive branch' to another person is a desire for peace.
In Islam, the olive tree symbolizes peace, but also plays a still larger role in the Qur'an than it does in the Bible. Olives have been mentioned seven times in the Qur'an and their health benefits have been propounded in Prophetic medicine.
The olive tree has been an important component of Jewish culture throughout history and is a symbol of many values in Jewish life. The olive is one of the seven species with which the land was blessed. It is mentioned frequently in the Old Testament in the context of blessings, fruitfulness and health.
The olive tree is our symbol too. That's why we have launched our campaign to plant olive trees across Israel and Palestine in the name of peace.
With Rabbis for Human Rights, let's help Palestinian farmers…
Richard Martin FRSA, President & Founder.
MORE NEWS FROM CHILDREN OF PEACE
An innovative, Israeli company with a machine that gives premium drinking water, derived from the air!
Dalia Al-Najjar talks about children at play and playgrounds in Gaza. Fascinating as ever!
TREES FOR PEACE – RABBIS FOR HUMAN RIGHTS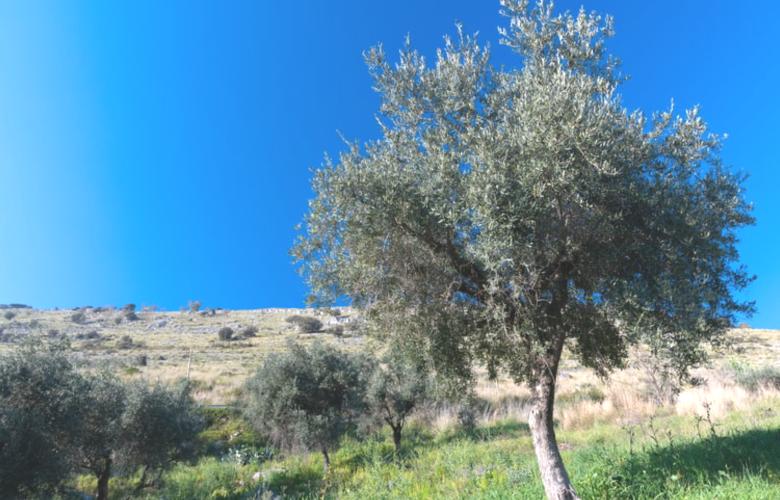 Children of Peace is a strong supporter of Israel and the Palestinians. We believe in two independent states living side by side in peace and friendship. So we were dismayed by the disgraceful events that took place when our partner Rabbis for Human Rights went to plant olive trees.
"Rabbis for Human Rights has been engaging with Palestinian olive farmers in the West Bank for close to 20 years.

Our annual 'RHR Olive Harvest' activity lasts for most of the length of the harvest period and brings hundreds of Israeli and overseas volunteers to work with Palestinian farmers in various spots in the West Bank.

Our goals for this project are to work to protect the human right of the farmers to access their land, harvest their crop, tend to their trees, and provide sustenance for themselves and their families.

The clear and constant menace of extremist settlers persists and pervades the experiences of the farmers and the volunteers. Instances of direct personal violence are prevalent against farmers, their trees and against volunteers. (In 2020 80 year old Rabbi Moshe Yehudai was attacked and had his arm broken by settler thugs in Burin).

An integral part of our project is planting trees."
Although we hold this activity one day a year, on or around the Jewish Holiday of Tu B'Shvat (the New Year of the trees) we are able to attract 200 or more volunteers to join with us and travel to the fields of a village where we have worked during the harvest and whose trees have been damaged or destroyed.
We collect funds and attempt to replace the trees and restore faith in the possibilities for peace and respect for human rights.
This year, RHR, once again, went out to the fields to plant trees. This year, like last, we travelled to Burin, a village upon which the eyes of extremist settlers constantly bare down and which has consistently experienced physical violence.
To our dismay, the Israeli army, which is supposed to protect Palestinians from such violence, consistently fails in this mission. On this day, our volunteers arrived at the village. The weather was warm and sunny and a large number of volunteers arrive, over 150 and with the constrictions of COVID19 health restrictions, we were quite proud to have been able to bring this many.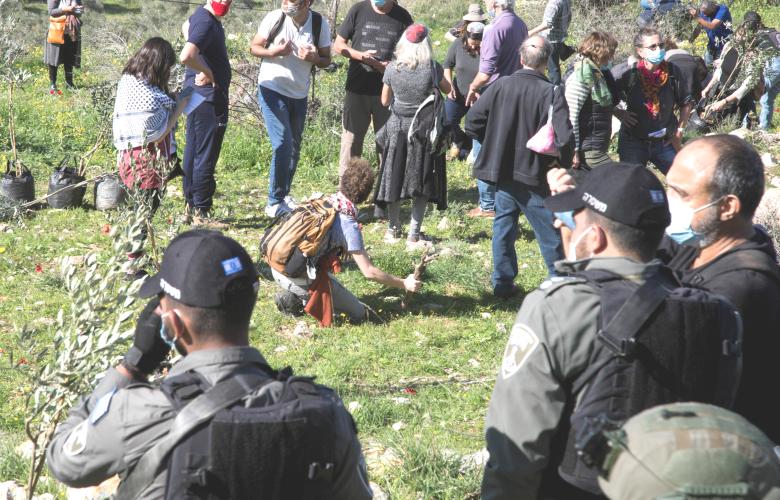 With about 100 trees in hand, the volunteers, in pairs and small groups, made their way with mature saplings to the fields in order to plant. Baashar, the owner of this particular plot, and his friends and family were among the volunteers. (Baashar spent most of the time that we were there, arguing with the army, preventing him from fully taking part in all of the planting). Unfortunately, the activities were marred by the Israeli army who, for some inexplicable reason, produced an order that ostensibly declared these particular fields closed and inaccessible at that time. Frustrating and unacceptable, the planters persisted, peacefully to assert their right to plant and to proceed. The army ended up using force, (as can be seen in this video and in this one) including stun grenades, threats and numerous instances of shoving volunteers back as they blocked their way.
However, with fortitude, ingenuity and the gift of argument Rabbis for Human Rights representatives and the farmer were able to create enough opportunities for the trees to actually get planted and for the day to conclude with little injuries and no arrests. (as these pictures demonstrate).
The work of defending human rights and building peace is a constant struggle yet, as the Jewish tradition instructs us: Although the task is difficult and long, we are not free to desist from the task of pursuing justice and seeking peace!
We are thankful to Children of Peace for their support and take this opportunity to share with you these pictures."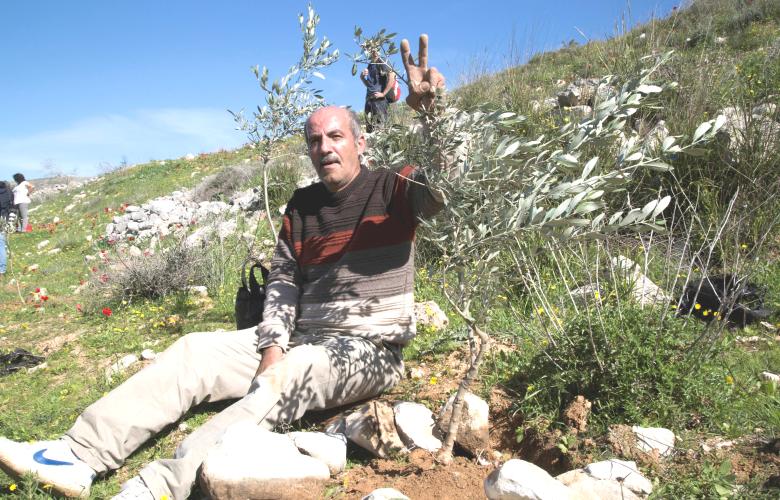 WATERGEN TEAMS UP WITH CHILDREN OF PEACE
Children of Peace is delighted to team up with the inspirational and innovative Israeli organisation – Watergen – led by leading humanitarian Dr. Michael Mirilashvili.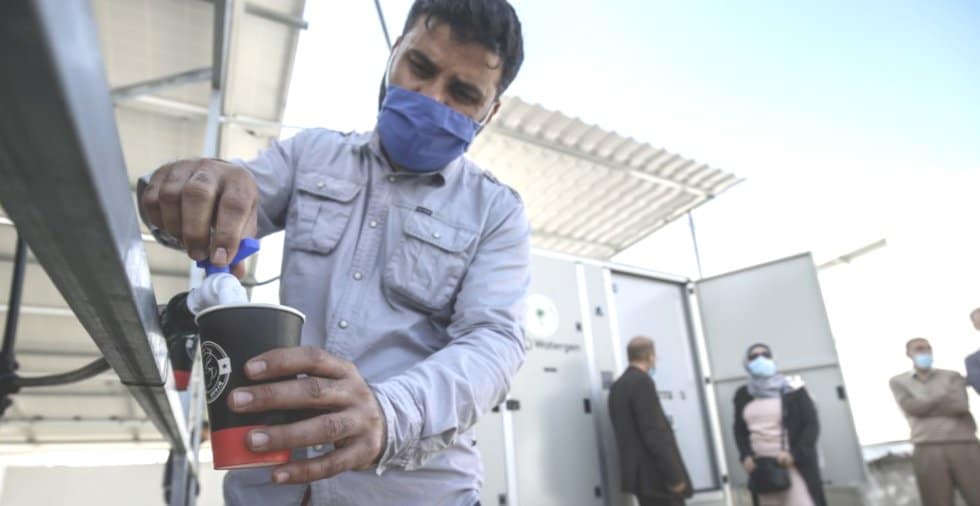 Here Zach Fenster, Vice President, Government Relations and Business Development for Watergen outlines their vision.
"Founded in 2009, Watergen is the global leader in atmospheric drinking water generators (AWG), machines that create drinking water from the air. Watergen's technology provides the opportunity to access a new and unlimited premium quality drinking water source. Its solutions are the most effective and economical way to solve the pressing issue of drinking water scarcity in any location and at any time.
Watergen's solutions are 'plug-and-drink', creating a drinking water source from the air around us. With this advantage the company is drastically reducing plastic waste and pollution, and eliminating carbon-intensive water supply systems.
As part of the international recognition of Watergen's market leading products, Watergen has been named one of Time Magazine's "100 Best Inventions of 2019", received 1st prizes at CES 2019 and CES 2020, and was recognized by Israel's Ministry of Economy as one of the seven most innovative inventions in Israeli national history.
Guided by the vision of our founder Dr. Michael Mirilashvili to guarantee high-quality drinking water to every human being, Watergen shares Children of Peace's commitment to ensuring the health and welfare of children throughout the Middle East and the whole world. Together, we will save children's lives!
Children of Peace President, Richard Martin says:
"We are honoured to work with this extraordinary organization. Watergen has developed an environmentally friendly way to provide safe, potable water for children and communities worldwide."
NEW AFFILIATES JOIN US
We welcome three groups from across the region that join our Coalition of Peace, the single largest peace network across the MENA.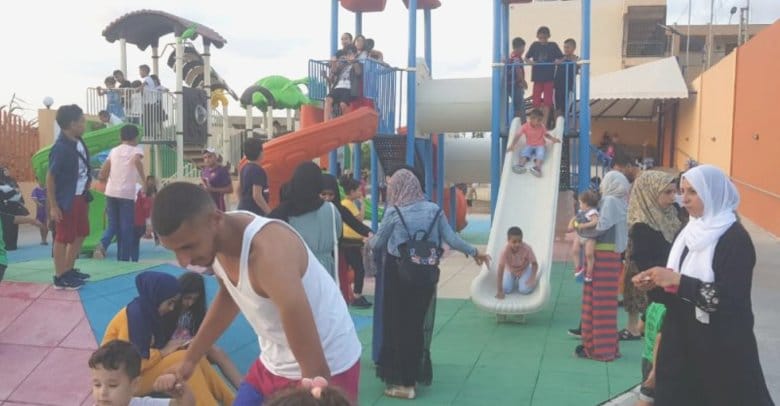 PLAYGROUNDS FOR PALESTINE UK
Here Lesley Ravenscroft a Trustee at Playgrounds for Palestine UK tells us about their wonderful initiative in building play areas for Palestinian children.
"We believe that all children have the right to play, no matter where they live, and that providing safe places for play helps lessen tensions and enables children to enjoy their childhood.
Having already funded seven playgrounds across Palestine and the Palestinian refugee community in Lebanon, an important new strand of Playgrounds for Palestine UK's work is now underway, focusing on sustainable outdoor playgrounds.
An innovative project in partnership with the University of Gaza and our cousins at Playgrounds for Palestine USA, it makes extensive use of recycled materials. Moreover, it employs recent architecture, interior design and arts graduates from the university.
One team has designed a playground inspired by a Rubik's cube for an orphanage in Gaza. Their design offers play for both younger and older children.
A second team used rainbows as the basis for a playground for children with Down's syndrome and autism, also in Gaza. The third, for a 5,000sq.m. public space in Gaza's Bani Suhaila municipality, harnesses the concept of musical instruments in a playground offering both movement and sound. 
Over time, we hope to recreate these playgrounds at other sites throughout Palestine. Meanwhile a further project is underway to replace a derelict forest playground near Jenin in the West Bank.
Information about our work can be found at playgroundsforPalestineUK.org
We are all volunteers. If you can help in any way, we would love to hear from you!"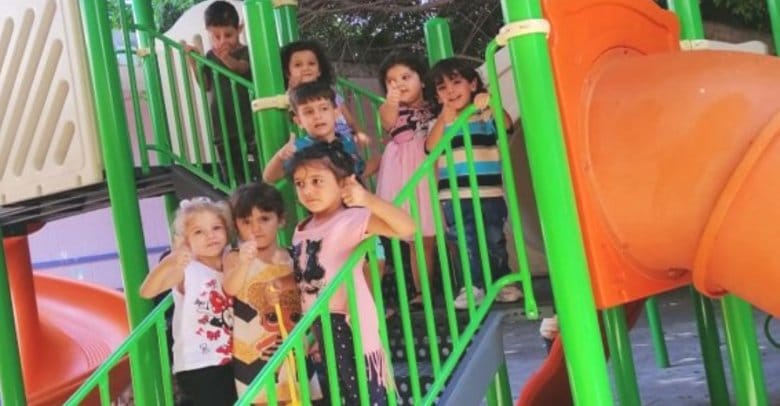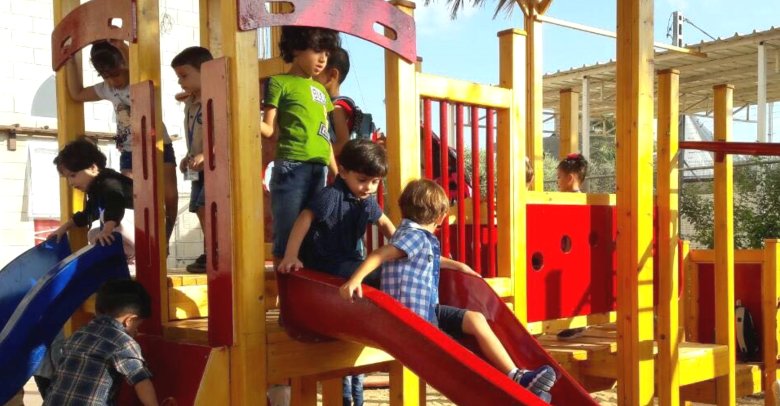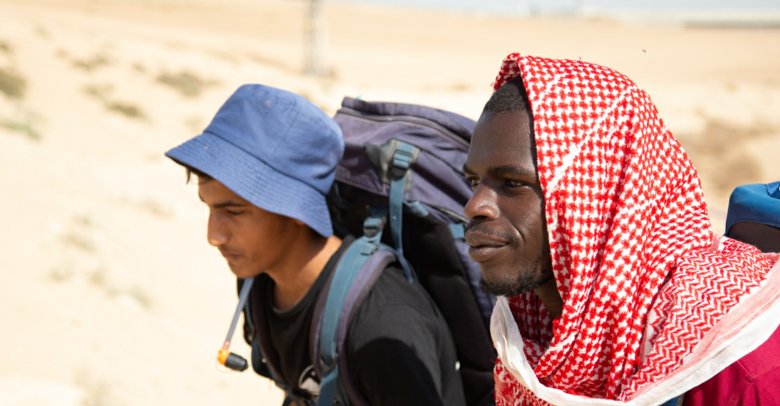 DESERT STARS
We first learned of the extraordinary work of Desert Stars – a Negev Bedouin NGO – when several young Bedouin men turned up to repair and restore a vandalised Jewish cemetery in southern Israel. This noble act won Desert Stars the heart of the Israeli people. And ourselves.
In this article Karen Oryejovsky from Desert Stars outlines their extraordinary work.
"Founded in 2013, Desert Starts is building a new generation of young Bedouin leaders who will change the future reality for the Bedouin population and the Negev in general.
In our seven years of operation, the organization has created a significant educational and training infrastructure, and gained wide recognition and trust.We have influenced the lives of many young people. With cross-tribal activities beyond imagination, significant eligibility for full matriculation far greater than the Bedouin as well as the national average in Israel.
Integration of leadership program alumni into academia has been at a rate 20 times the national average, and created significant programming which has been recognized and is now receiving systemic funding by the State and more.
Located in the Negev, southern Israel, Desert Stars' main mission is to equip young men and women with leadership abilities. We offer them opportunity to develop and realize their individual potential in a way that will allow them to lead change and advance Bedouin society, as a significant part of the Israeli success story.
Desert Starts offers programs that create a 10-year educational sequence, including…
Leadership High School and Extracurricular Empowerment Centre ('Rawafed') for 240 students in 9th -12th grades.
Leadership and Entrepreneurship Incubator for 50 young men aged 18 – 19.
Women's Leadership Program ('Raidat') for 30 young women aged 18 – 19.
Alumni Program for graduates of 'Raidat' and the men's Incubator – currently 155 alumni.
As a member of the Children of Peace Coalition, we believe we have much to contribute. Our programs have been extremely successful in promoting integration of Negev Bedouin into exclusive national leadership programs in Israel. Plus integration of our graduates into significant internships and employment.
We have seen our program participants and graduates initiate and follow through on social initiatives for the benefit of the Bedouin community and significant improvements in attitudes towards cross-tribalism and Jewish society.
Our programs also create a platform for coexistence meetings between youth of all religions in Israel."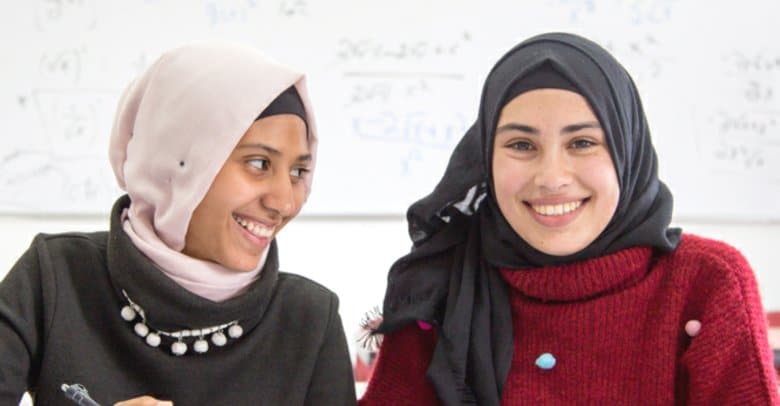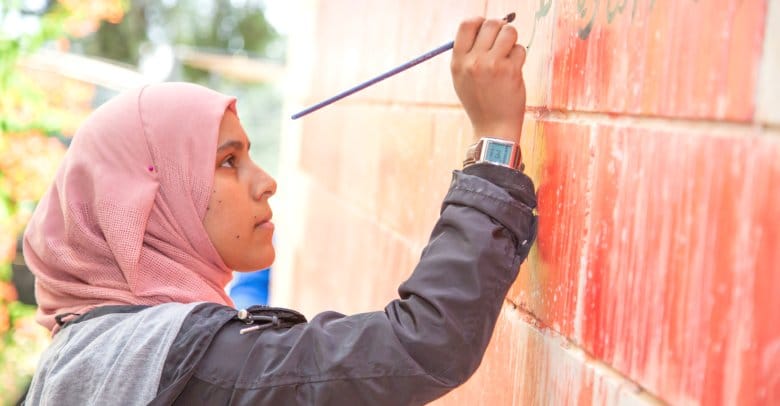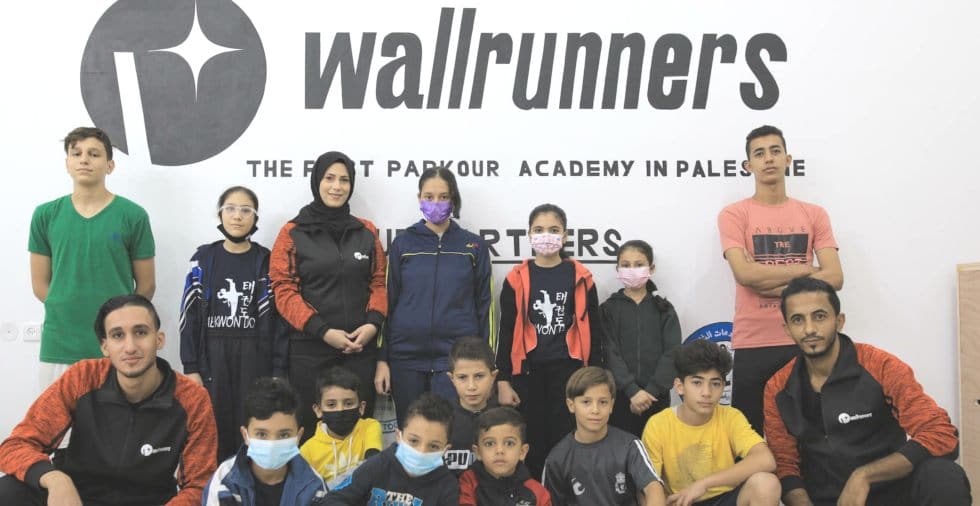 WALL RUNNERS
Tom Vaillant, Co-Founder of Wall Runners tells us about Gaza Parkour, the first Parkour Academy in Gaza. Parkour is young, dynamic, and exciting. A sport that is perhaps custom-fit for places like Gaza, and the energy, creativity, and resilience of its youth.
"Wallrunners began with a documentary about parkour in Gaza, during one of the interviews Ahmad (the athlete) mentioned to Tom (the filmmaker) his desire to build a parkour gym for the kids back home, so they wouldn't have to face the possibility of injury to practice the sport they love.
In March 2020 – a few years later – we founded Wallrunners. It took us half a year to prepare a team and gather support from our donors online, but in December 2020 we opened the first parkour academy in Palestine. The academy is in Gaza City.
Our mission is to create an inclusive sports and culture community across borders, empowering young boys and girls to overcome physical and mental barriers through parkour. Our academies will be hosting parkour competitions and dance exhibitions, community events and virtual lectures.
As much a philosophy of life and an art form as an athletic discipline, parkour is the passing of obstacles and barriers by running, jumping, and climbing. For a generation of children who have grown up in a flood of under-employment, it has become a method of self-expression, an escape, and a way of life.
We're currently fundraising to open new academies in Kashmir and Kenya."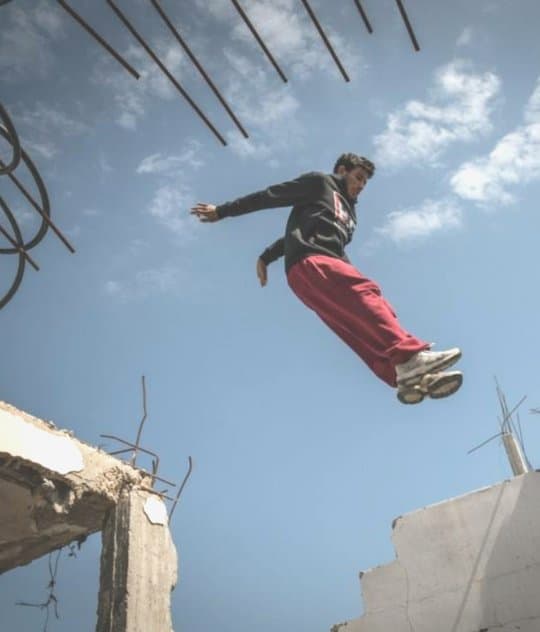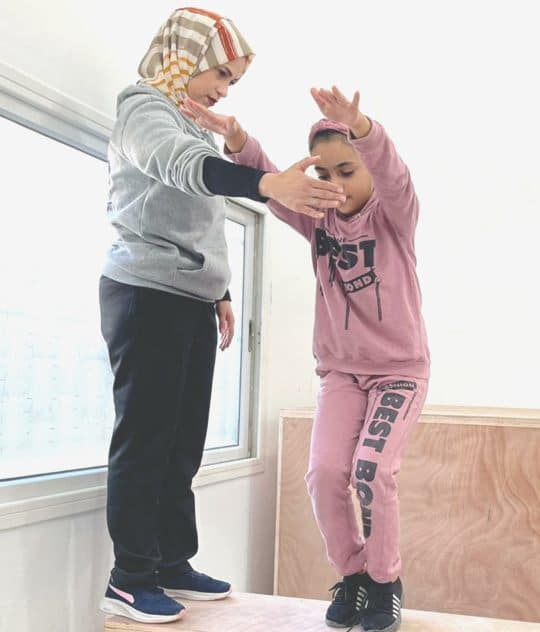 … is a unique peace network with affiliates on every continent, and especially in Gaza, Israel, Jordan, the West Bank, Turkey, Egypt and Morocco.
LETTER FROM DALIA
Our Gaza correspondent and Regional Liaison Coordinator Dalia al Najjar looks at importance of play for the children of Gaza.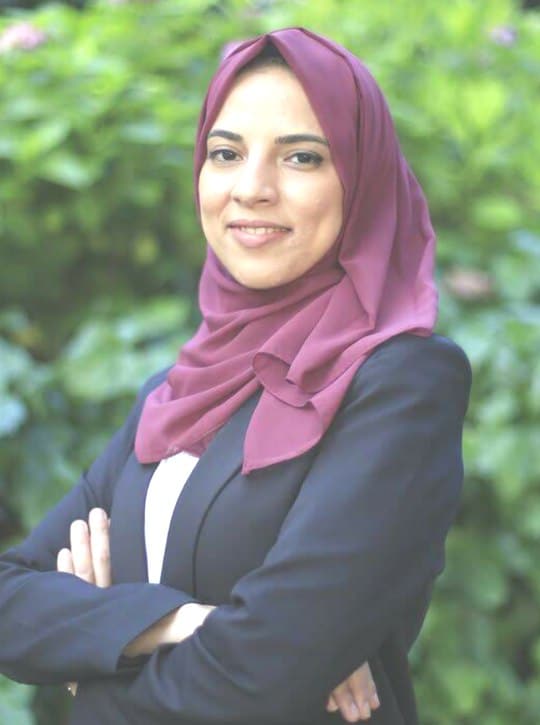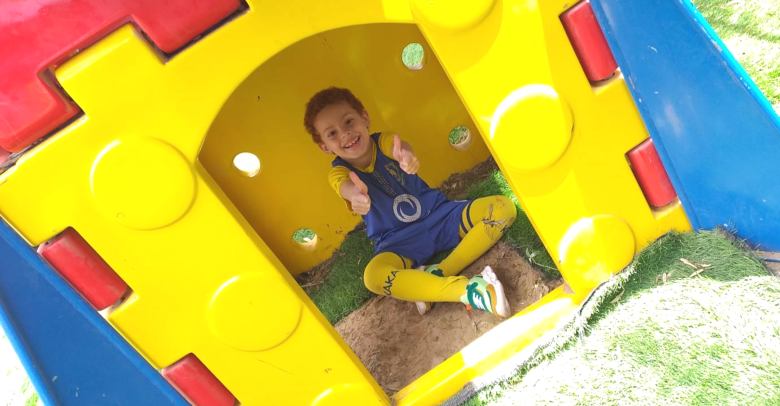 Children in Gaza: Kids need to be kids. 
Gaza lacks many things and one of the things that people don't talk enough about is having safe spaces for children to play and social nurturing. The overcrowded strip has about a million children, which is 50% of the population. 
According to a report by Save the Children, children and young people are vulnerable they either experiencing toxic stress or are at a high risk of developing serious and long-term mental health issues. In fact, at least 25% of the children in Gaza are in need of psychological support. 
Children's emotional needs are easily neglected and ignored because the parents are usually in survival mode and worried about bringing food to the table. It's no secret that life in Gaza is bleaker than ever. Every time I talk to my friends and family in Gaza I feel the widening gap between Gaza and the rest of the world. Sometimes I feel like I am talking to a group of people who are disconnected from the rest of the world, people on a remote island with no internet nor electricity.
The situation is very complicated and the pandemic only made it worse. While there are only a few things people from the outside could do to help. We can always send love and make sure the children feel it.
Central Park has 21 Playgrounds how many in Gaza?
I still remember vividly the time my neighborhood got its first playground. It was not a fancy playground. It only had the classics wooden house with two slides a climbing wall, a seesaw, and three swings. I was 12 or 13 and I was thrilled about it, the local kids and I would go to watch smaller kids play and steal some time at the swings if no one is looking. Some months later the lack of maintenance ruined the park and afterward, it was replaced by a water filtering system, essential of course, but we went back to having no park. 12 years later, there's still no park nor a playground in Bani Suhaila, where I was born and raised. 
There's no playground in Qaa ElQren, a village of Bedouins, few kilometers away from Bani Suhaila. There, the children drop out from school rate is very high because they are needed to support their families. Children are not seen as children, they are mini-adults with lots of responsibilities. If they had safe spaces to play, it would change their lives and make everyone realize the necessity of letting kids be kids. 
I couldn't find an official statistic of the number of parks in Gaza, an optimistic rough estimate would be less than 30 public and safe playgrounds. 
Some Good News!
Children everywhere need to be children and live like children and play like children. I am so pleased that Playgrounds for Palestine has joined Children of Peace, and I am thrilled and moved to find out that they are in talks with the Municipality of Bani Suhaila to build an eco playground where my young brother Adam could play. There are many important causes that need our collective support, especially during the pandemic. What Playgrounds for Palestine do is essential and supporting them is a way to send your love to children in Gaza.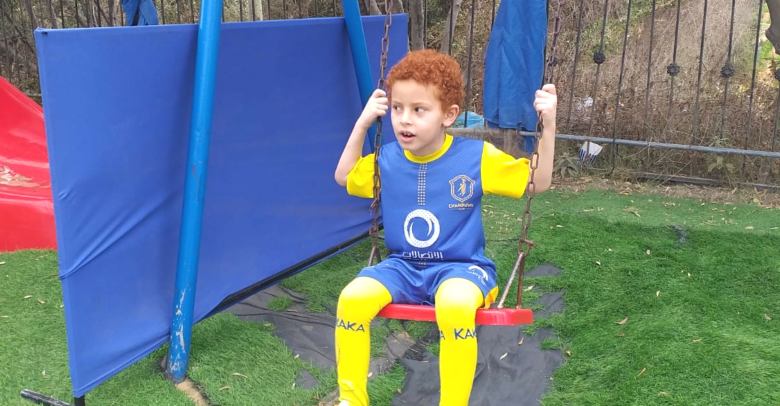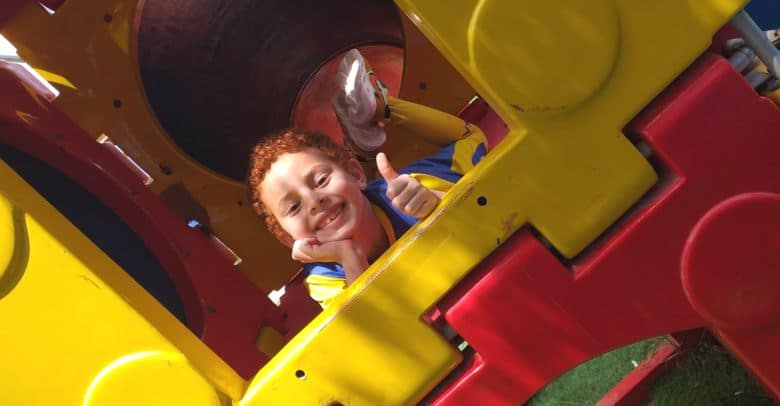 HELP OUR IMPORTANT WORK, PLEASE!
Committed volunteers keep costs down. 91% of donations directly helps the children.
Use JUSTGIVING to easily raise funds for us. For whatever!
Improve the lives of children and build peace. Help by giving online.
And there's loads of other ways you can help our cause. Find out.
FOOTNOTES
Latest news from around the region compiled by Sarah Brown.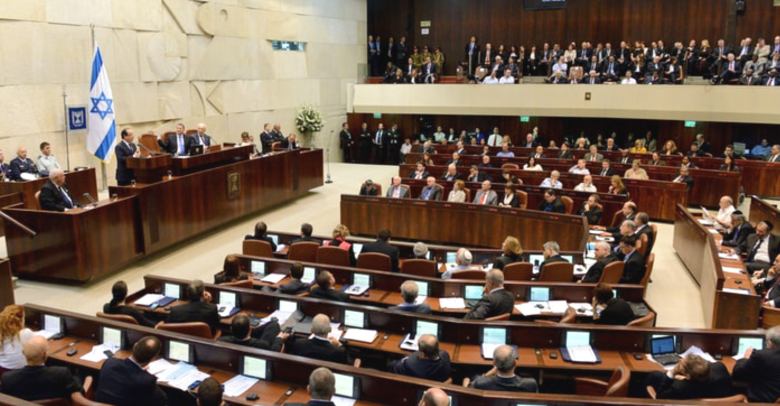 Elections in Israel
Elections for the Knesset will be held on 23 March. As ever, the picture is complex, although there is some evidence of waning support for Prime Minister Benjamin Netanyahu and the bloc of parties who would support him. A recent poll suggested that Likud could lose several seats, although it can still depend on significant support from Orthodox and religious right allies.
And those who oppose Netanyahu are far from united – they include Opposition leader Yair Lapid's centrist Yesh Atid, the New Hope Party led by former Likud MK Gideon Sa'ar, the left-wing Meretz and Labor, Naftali Bennett's hard right Yamina party, parties on the Arab-Israeli joint list, and the Islamist party Ra'am. Curiously Ra'am's leader, Mansour Abbas, has given some signs of a willingness to work with Netanyahu.
The Blue and White party of Netanyahu's coalition partner Benny Gantz is projected to do badly, and Labor's new leader, Merav Michaeli, has urged him to pull out of the race. Meretz leader Nitzan Horowitz has recently sparked controversy by asserting that the International Criminal Court's probe into alleged Israeli war crimes is legitimate.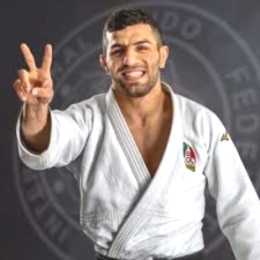 Judo friendship inspires TV series
MGM and Tadmor Entertainment, an Israeli company, are teaming up to produce a series based on the unexpected friendship between two champion judo players, Iran's Saeid Mollaei and Israeli Sagi Muki. In 2019 Mollaei came under great pressure from the Iranian authorities to throw his semi-final match at the Tokyo World Championships in order to ensure he wouldn't come up against the Israeli world champion in the finals. As a direct result of this brave action, the Iranian was forced to flee to Germany as a refugee.
The planned series will be developed in conjunction with the International Judo Federation and will feature exclusive footage of both judokas. The two men are scheduled to compete for the first time during the 2021 Tokyo Olympics.
Steve Start, MGM/UA Television president, is sure their story will capture viewers' imagination:
"Sagi Muki and Saeid Mollaei are both inspiring and groundbreaking athletes whose rivalry and impossible friendship has transcended the world of judo to captivate sports fans and hearts across the globe."
Coronavirus restrictions tighten in West Bank
At the end of February the Palestinian authority instigated a 12-day circuit-breaker lockdown. Nurseries and schools closed again, and the night-time curfew was extended.
The PA has received a limited number of doses of the Russian Sputnik vaccine as well as some from Israel. In Israel a programme was recently announced to vaccinate those Palestinians who work in Israel or West Bank settlements – about 100,000 people in total. However there has been disagreement over Israel's responsibilities to help vaccinate those Palestinians who have limited self-rule in the West Bank itself.
Israel has been prioritising its own citizens, although many argue that it is an occupying power with a duty to combat pandemics in the occupied territories. The PA has also come in for criticism as it has been revealed that vaccinations intended for key medical workers have been used to treat VIPs, including footballers, government ministers and presidential guards.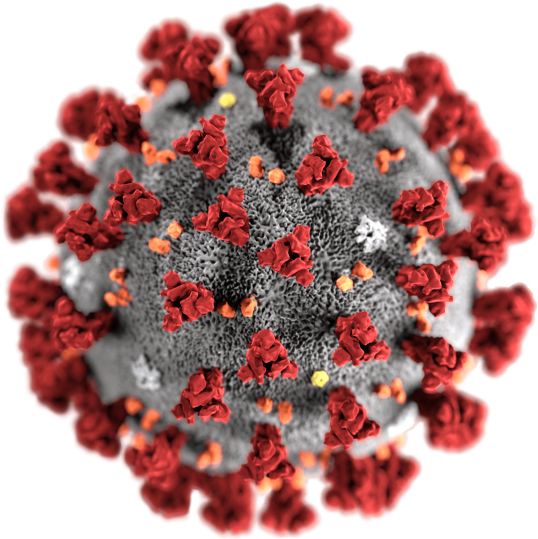 Israeli High Court of Justice recognizes Reform conversions
Israel's religious and secular communities are frequently in collision over issues such as Sabbath observance and exemptions from military service for the ultra-Orthodox. Now Israel's highest legal body has recognized the validity of Reform and Conservative conversions in granting citizenship under the Law of Return.
This move is likely to prove popular amongst American Jews, most of whom are not Orthodox. However it has prompted outrage from some in Israel. Aryeh Deri, of the ultra-orthodox Shas Party, for example, described the court's unanimous decision as 'wrong and troubling', asserting it would 'cause dispute and a powerful cleavage in the nation.'