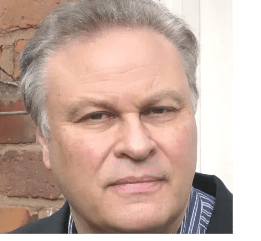 We highlight the Children of Peace Razan Al-Najjar Nurses Bursary held this November in Gaza. Three new students received our annual award to train nurses in Gaza.
We also welcome a new affiliate partner, the Jerusalem Peace Institute.
When 2020 ended few could have predicted the transformative political landscape across the Middle East and beyond. As more Arab and Muslim countries reach out to Israel in friendship, after generations of official boycotts and mistrust. Or the deadly wave of change brought by the COVID pandemic which has been an unforeseen catastrophe across the Middle East. This will take much resilience and courage to recover from.
Conflicts fester through dehumanisation. Reaching out, making contact, meeting each other can change that. That's why our Coalition of Peace, the single, largest peace network across the MENA, is so vital.
We are proud of our non-partisan path. We believe in the pursuit of peace between Israel and Palestine. And this edition is dedicated to it.
Let's hope 2022 makes peace a reality. 
Richard Martin
#Talkpeace #Endthehate
Richard Martin FRSA, President & Founder.
RAZAN AL-NAJJAR NURSES BURSARY AWARDS
On Monday 29th November, the University College of Applied Sciences in Gaza, hosted the 2021/2 Children of Peace Razan Al-Najjar Bursary Awards.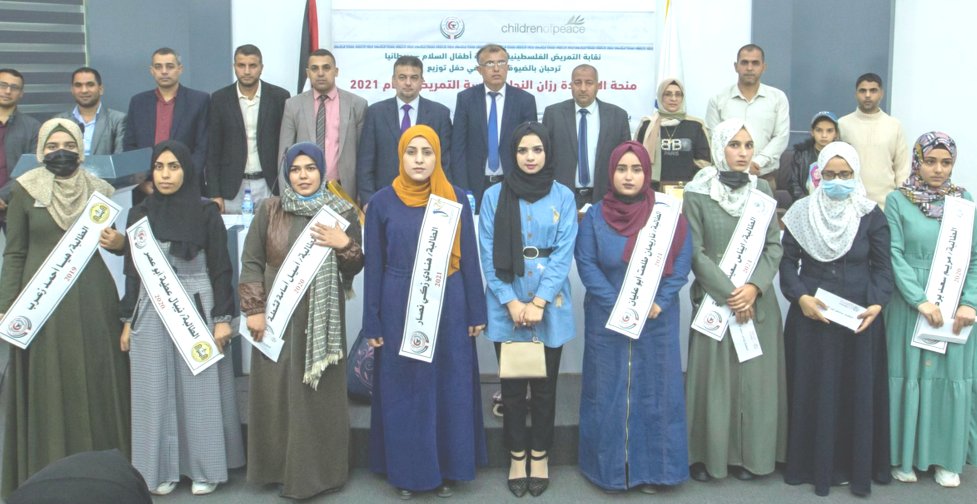 The Children of Peace Razan al Najjar Nurses Bursary is becoming an auspicious event in the Gaza calendar. The 2021-22 ceremony was sponsored by the Deanship of Nursing and Health Sciences at University College, Gaza. The Bursary is implemented by the Palestinian Nurses Association in partnership with Children of Peace.
In Gaza, unemployment for women, 15 – 29 years old, is over 90%. So, it was a life-changing event for three young Gazan women.
Above are this year's awardees, plus those from 2020, and 2019 who received top-up grants to continue their studies.
The ceremony was attended by leading academics and government representatives including, shown below (left to right).
Ali Al-Khatib, Dean of Nursing and Health Sciences at the University College; Mr. Hamdi Al-Dalou, Director of Department of Scholarships and Scholarships at the Ministry of Education and Higher Education and Mr. Khalil Al-Daqran, President of the Nursing Association.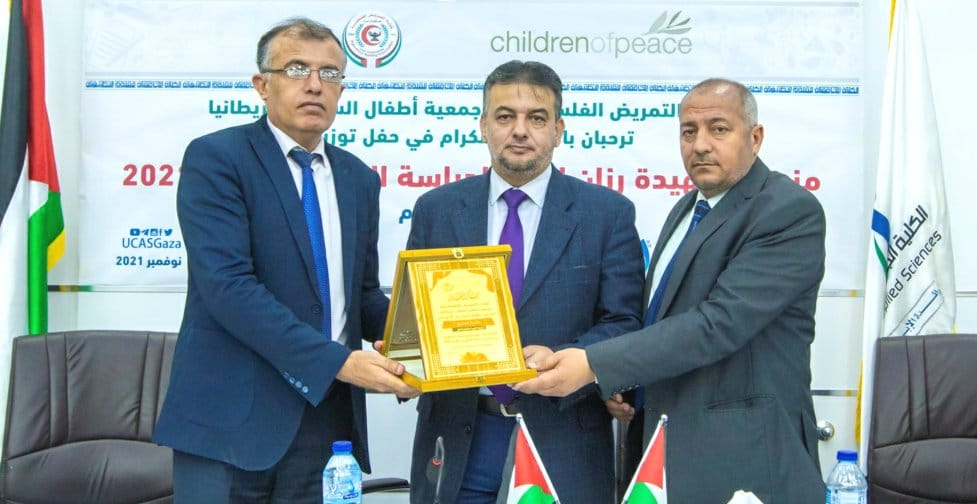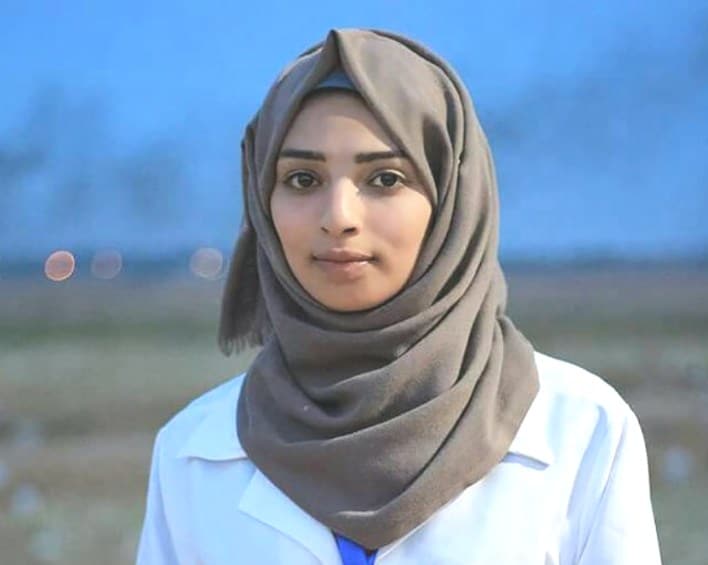 The Bursary honours the memory of Razan al Najjar (above), shot dead at the border protests in June 2018 whilst treating the wounded in her paramedic uniform.
Mrs. Sabreen Al-Najjar (below left), the mother of Razan Al-Najjar and Sara Al-Najjar (below centre) both delivered moving speeches.
Many Bachelor of Nursing students from Palestinian universities in the Gaza Strip attended this inspirational ceremony.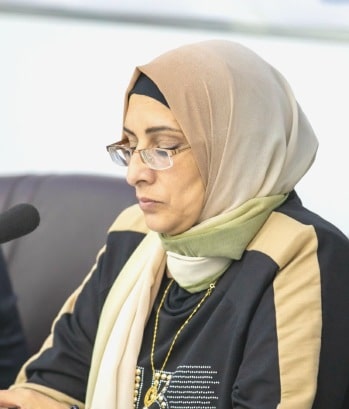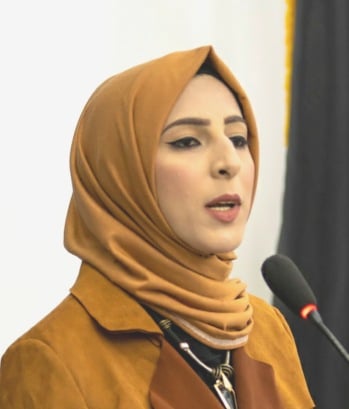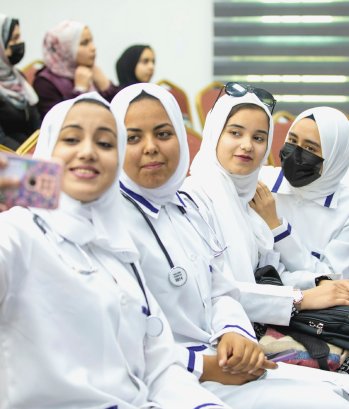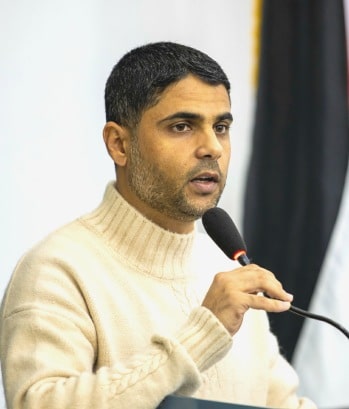 Previous years' nurses received top-up grants to complete their studies…
2020 Mariam Baraka
2020 Nebal Abu Aser
2020 Aseel Qeshta
2019 Haya Zoarub
2019 Sondos Salim
The Palestinian Nurses Association and awardees thanked Children of Peace's Richard Martin, Regional Director Dalia al-Najjar and Dr Richard Sloan for their "noble support for our young student nurses".
Mohammed Frihat (left) delivered a message from the President of Children of Peace, including this statement…
Razan al Najjar was a brave, intelligent, independent woman. She worked in the noblest of professions, nursing the sick and injured, saving human lives. We will never forget her…
You, the successful candidates, have much to be proud of. We wish you every success in your chosen career. This Bursary Award speaks to each and every young person and child living within the Gaza Strip. It represents hope, ambition and justice.
The world is aware of you all and we will never forget you".
Receiving the award for the first time were…
2021 Hanadi Nassar (left below)
2021 Nareman Abu Elian (centre below)
2021 Enas Abu Amrah (right below)
There is also a YouTube video of the occasion, below the awardees' pictures (in Arabic with sub-titles).
Previous years' nurses received top-up grants to complete their studies…
2020 Mariam Baraka
2020 Nebal Abu Aser
2020 Aseel Qeshta
2019 Haya Zoarub
2019 Sondos Salim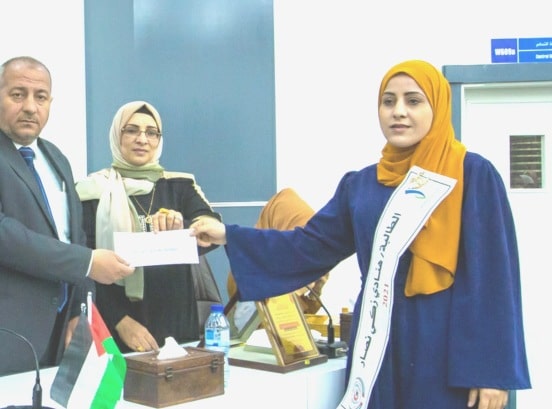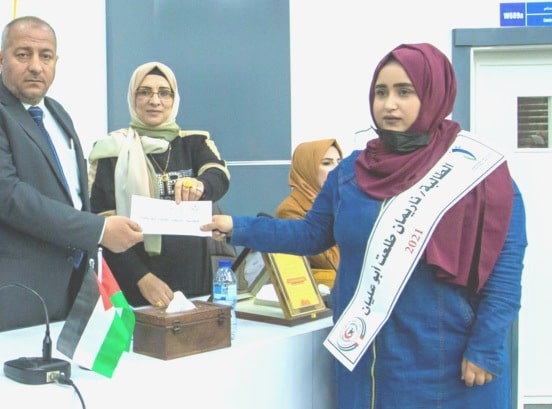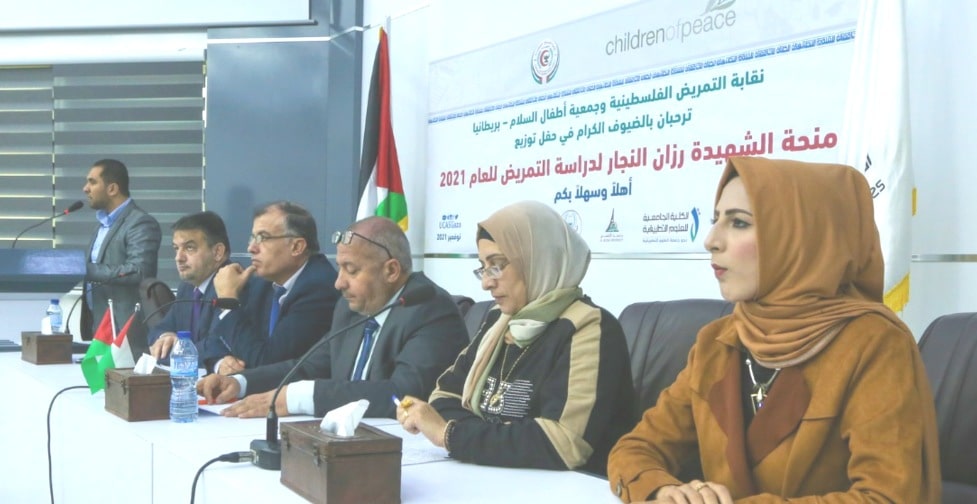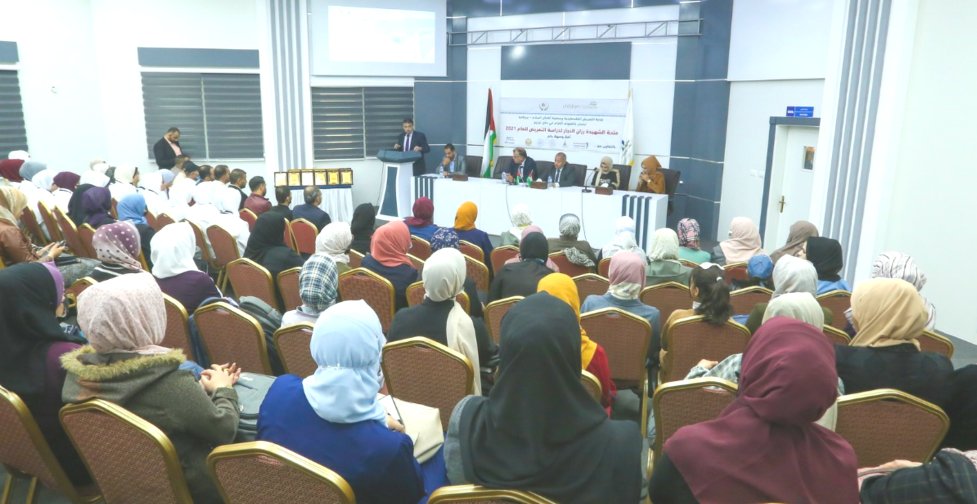 … is a unique peace network with affiliates on every continent, and especially in Gaza, Israel, Jordan, the West Bank, Turkey, Egypt and Morocco.

THE JERUSALEM PEACE INSTITUTE JOINS AS A PARTNER AFFILIATE
We are very pleased to welcome the Jerusalem Peace Institute as affiliate members of our Coalition of Peace, now the single largest peace network in the Middle East and North Africa.

Dr. Saliba G. Sarsar President/CEO of the Institute outlines their work…
"The Jerusalem Peace Institute is focused on Jerusalem as humanity's shared gift governed by two peoples and cherished by three faiths, and as key for a just peace. As such, Jerusalem must be inclusive, a requisite for charting a new beginning. Its status requires of all to think and act creatively, responsibly, and sensitively about its future so that it can be a source of peace and harmony between peoples and religions.
JPI stems from a multi-year collaboration of Dr. Saliba G. Sarsar and Rateb Y. Rabie in the Holy Land Christian Ecumenical Foundation.
It builds on progress, including,
JPI, like Children of Peace, works for peace. It commends Children of Peace on its charity work and advocacy on behalf of children. If equality, justice, peace, and reconciliation are to take root deeply in daily lives and culture, the children must plant their seeds.

Rebuilding Lives
Hot conflict may have been replaced with an uneasy truce - but the children's suffering goes on – displacement, post traumatic stress. Please support our #RebuildingLives efforts and help the #childrenofconflict.
Photo credit: Lyle Hastie - Unsplash