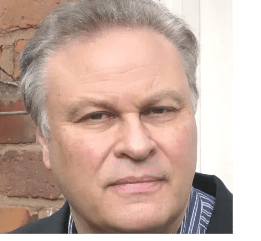 SLOW STEPS TOWARDS PEACE
#Talkpeace #Endthehate
Fires ravaged the forests above Jerusalem this August.
In a rare instance of Israeli-Palestinian cooperation, the Palestinian Authority in the neighbouring West Bank sent five trucks and 20 firefighters to assist the Israelis.
Israel's defence minister, Benny Gantz, publicly thanked Palestinian President Mahmud Abbas for this act of goodwill.
The new government in Israel brings greater hopes for peace. There are signs of change and it comes from Cairo.
Egyptian President Abdel Fattah Saeed Hussein Khalil el-Sisi – a key player in negotiations between Hamas and Israel, has been brokering discreet shuttle diplomacy across the region. He is assembling key players to build communication links for peace talks. Palestinian Authority leader Mahmud Abbas met with el-Sisi and Jordanian King Abdullah II recently. And Israeli Prime Minister Bennet made his first official visit to meet with el-Sisi in September.
El-Sisi has his own problems. The Islamic State of Iraq and the Levant is a branch of the militant Islamist group ISIS/Daesh that is active in the Sinai Peninsula of Egypt. Dozens of Egyptian police and soldiers have been murdered in recent years by Daesh. El-Sisi understands the importance of building a peace alliance to contain emboldened regional militants after the re-emergence of the Taliban.
Help us with REBUILDING LIVES…
DONATE NOW
Richard Martin FRSA, President & Founder.
THE 2021 CHILDREN OF PEACE GRANTS
We are delighted to announce that the following affiliate groups have been awarded the 2021 Children of Peace Annual Grants.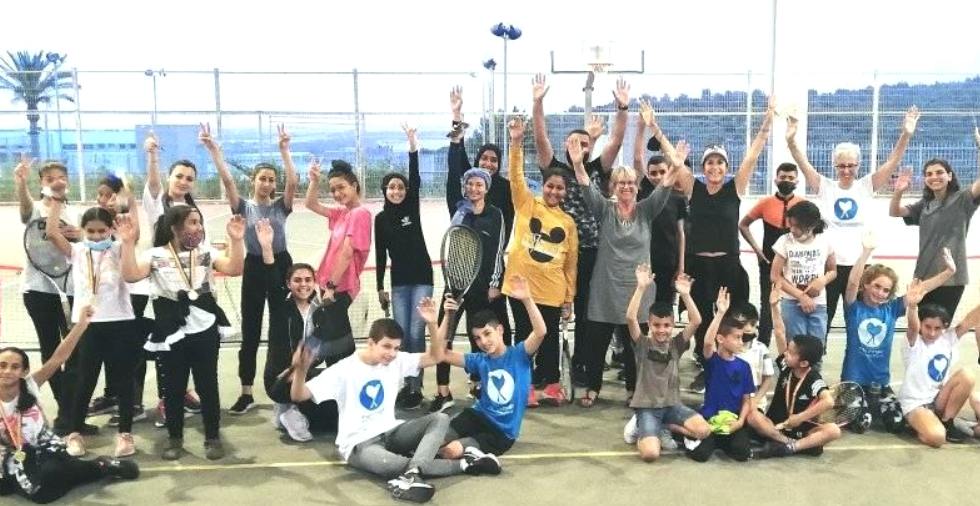 FREDDIE KRIVINE INITIATIVE, Israel
FKI Israel was launched in 2000 and uses tennis to bring together Jewish and Arab children in shared programs, and develop social mobility through empowerment and education programs.
It reaches hundreds of Arab children in some of the poorest villages in Israel. FKI program's offer a specific focus championing the full, active and equal participation of Arabs within Israeli society. For 20 years its programs have proven to be transformative in social mobility. Alumni have gone on to become doctors, vets, nurses, school teachers, physiotherapists and pro-tennis coaches.
This Children of Peace-funded project is to support partnering with Gesher L"Aravit, a local group run by Arab Israelis promoting a shared society through a tennis and language youth program.
The year-long program is to take place at the FKI tennis club in Binyamina and will consist of a monthly four-hour meet to play tennis, games and learn Hebrew and Arabic. Plus three family days, where all the participants families will be invited to join a team building activity. Taking part will be 30 Jewish and Arab Children aged 10-14 and their families, from Jisr a Zarqa, Faradis, Binyamina, Zichron and Pardes Hana.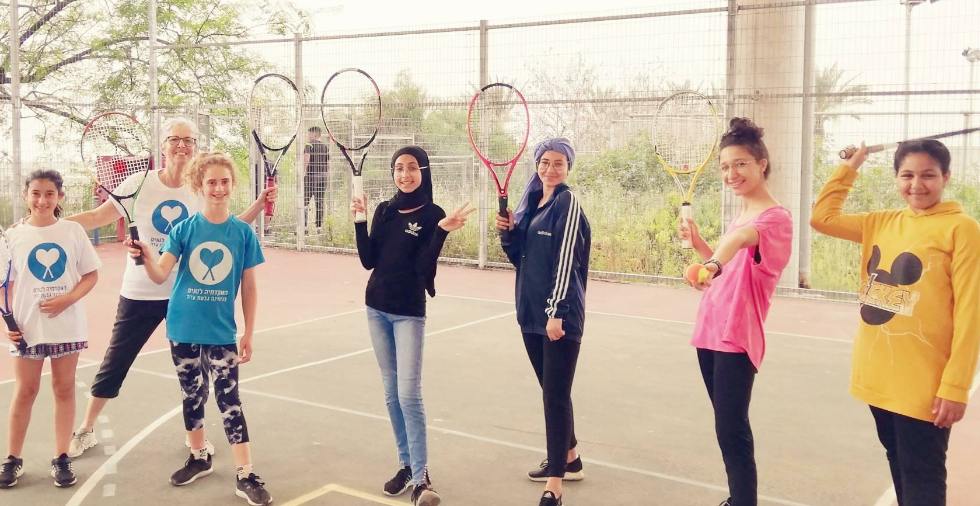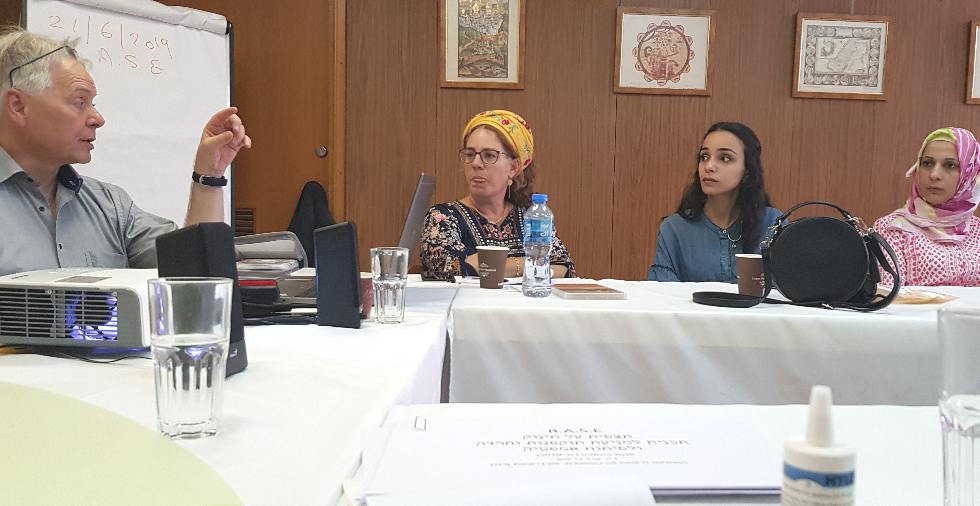 CARE PALESTINE, Ramallah
Children of Peace is funding a one-year project in the West Bank.
CARE will work with Israeli and Palestinian professionals to help combat growing domestic violence while living under the COVID-19 pandemic. Community members will get help with issues relating to mental health and parenting, including…
Depression and anxiety among mothers, fathers, and children. How does it impact daily behaviour and communication?
Why and how parents need to talk to their young children about the situation, and about adverse events in general?
Ways of observing and assessing the parent-child relationship.
The role of parents in the child's socio-emotional development.
COVID-19 and domestic violence.
Maltreatment in day care – a sporadic phenomenon or a common hidden ghost?
Eating/sleeping disorders.
Stress management techniques.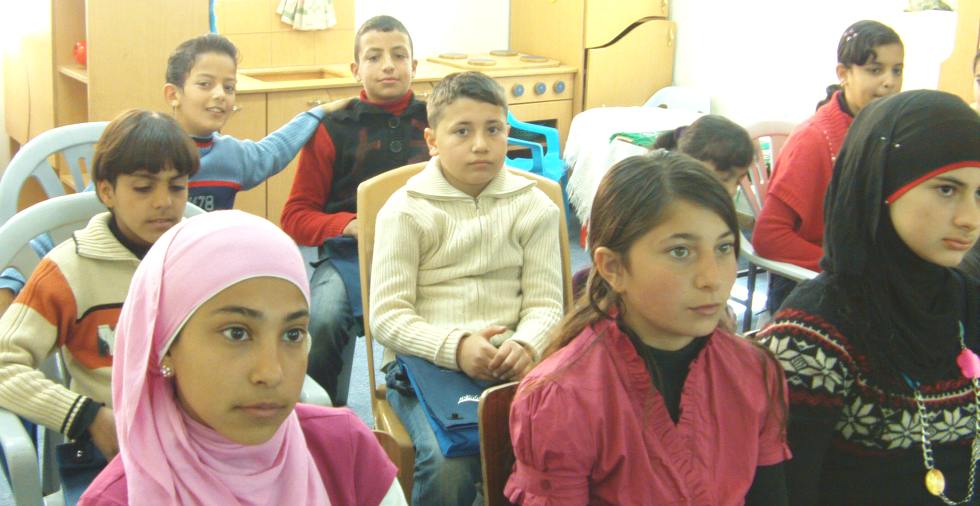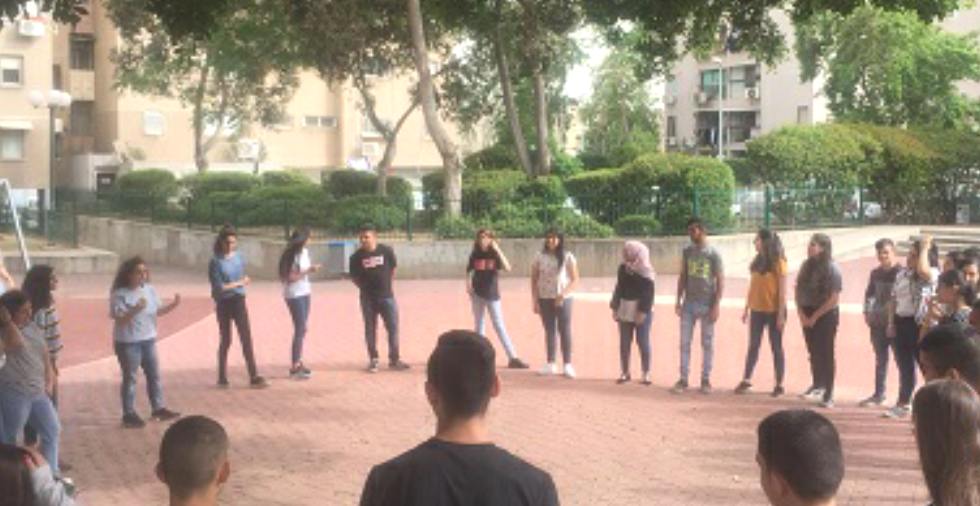 SADAKA-REUT, Israel
We're helping support a Culture of Peace activity program which empowers young Palestinian and Jewish leaders, 2021 to 2023.
Sadaka Reut was founded in 1983 by a group of Palestinian and Jewish students who shared the vision of a better future for both people.
Its mission is to educate and empower Palestinian and Jewish youth in Israel. To pursue social and political change through bi-national partnerships. And thus create a just and equal society that serves as an alternative model to current segregated society.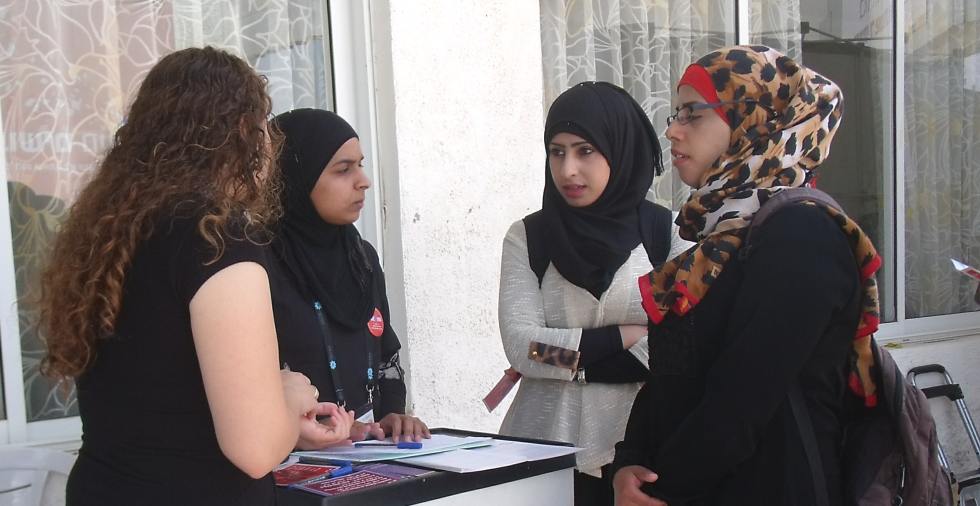 GAZZE DESTEK ASSOCIATION JOINS US
We are very pleased to welcome the Gazze Destek Association as affiliate members of our Coalition of Peace, now the single largest peace network in the Middle East and North Africa.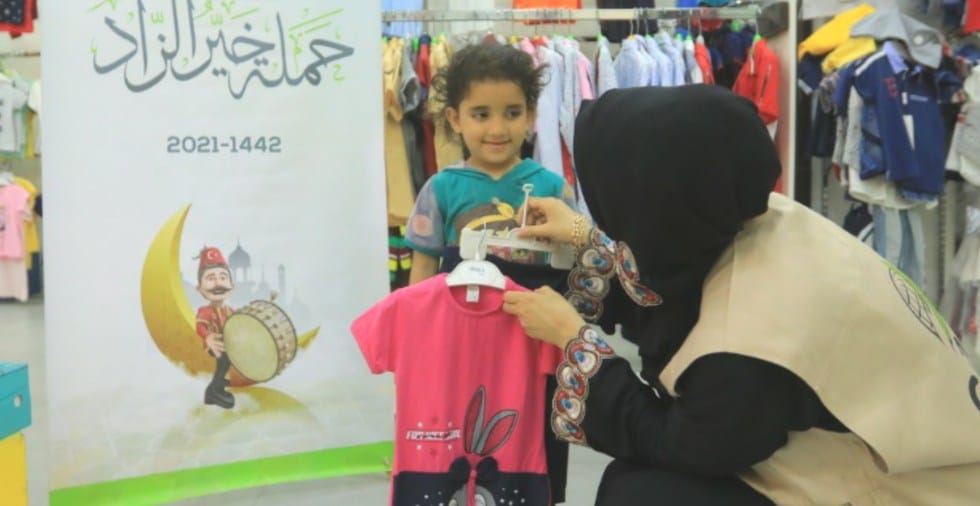 Gazze Destek Association (GDD) is a leading Turkish humanitarian organization working to improve the quality of life in Gaza Strip.
It was established in 2014 in Istanbul with an office in the Gaza Strip. GDD aims to support and coordinate efforts by generous donors, for the Palestinian community.
Muhammed Halid Delil, Fundraising and Development director tells us more about their important work…
A group of experts and humanitarian workers were engaged in Turkey to establish the Gazze Destek Association (GDD) in Istanbul. This was based on…

The recommendations of the International Donor Forum in support of Gaza following the 2014 war.
As a result of the continued suffering of the two million Palestinians living under siege since 2006.
Because the Palestinian issue has great importance to the Turkish community.

GDD coordinates the efforts of all the donors to meet the humanitarian and developmental needs of the Gaza Strip.

In 2017 GDD established an executive office in the Gaza Strip to implement and supervise the projects on the ground.

Since then, GDD has implemented 1972 projects to date in Gaza that has benefitted 3,472,412 people in the Governorates.

Our projects have been funded by 117 donor institutions from over 31 countries around the world. We are proud to say GDD is the first association to record the highest number of tenders announced in the official newspapers in Gaza for 2018 and 2019.

We plan to launch an exclusive report on the humanitarian situation in Gaza Strip on an annual basis, in several languages to be circulated globally.

Gazze Destek Association adheres to international and local laws regarding humanitarian action by…

Promoting human empowerment by fostering self-reliance.
Adopting fair standards in humanitarian assistance, regardless of colour, race, belief, or affiliation.
Joint work to promote coordination and integration between parties and optimising the use of resources.
With innovation as the basis for all our projects, to maximize the impact on the community.
President of Children of Peace Richard Martin says,
We welcome GDD into our Coalition of Peace as a leading Turkish humanitarian organisation. One that is helping to transform the lives of thousands of ordinary Palestinians in Gaza trapped by the blockade and seeking a safe, free and peaceful life.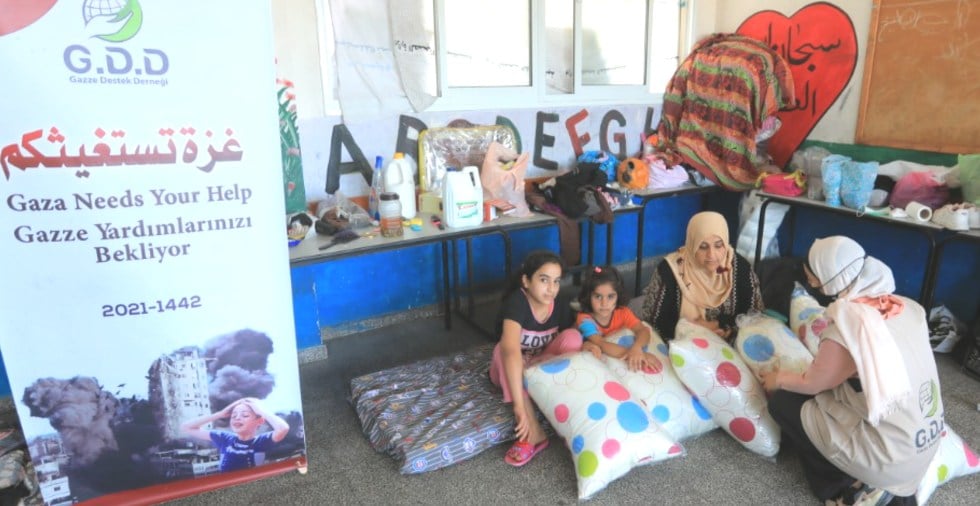 BOOK REVIEW
Apeirogon, by Colum McCann. (Bloomsbury, 2020) 
Paige Donoghue – a new member of the Children of Peace Social Media Team.
The first of a regular book review series.
Paige Donoghue discusses one of the most powerful novels of recent times, described as a masterpiece by The Guardian – Apeirogon – by Colum McCann – a Friend and supporter of Children of Peace. (Bloomsbury, 2020)
"Portraying a narrative set in a fractured world, Colum McCann's novel Apeirogon cleverly navigates the harsh realities of a long-lasting war. The novel, focusing on the conflict in the Middle East, brings to life a world which the reader can barely fathom. McCann based the novel on a true story of a friendship between a Palestinian and an Israeli, Rami, and Bassam, who are torn apart by grief yet reconciled through the loss of a daughter. From different ends of the war the fathers both ignite a friendship defying those who seek to separate them.
An Apeirogon is a geometric shape with an infinite number of countable sides symbolic of the conflicts in Israel and Palestine. The conflict is multi-dimensional with different opinions and political views. McCann makes this clear as he explores different perspectives on the same events and how opinion affects judgement. The main characters are torn as they are influenced by numerous people and events. Despite being set in the Middle East, McCann's narrative is universal, using human emotions which connect us all, such as grief and suffering. The reader, whatever their political views or background, can relate to the characters and understand the restrictions and hardships war inflicts on a person.
The narrative felt disjointed at times, but this is understandable when deliberating the novel as a whole. The chapters and narrative can seem fractured, reminiscent of how torn apart society is. Although confusing, once the reader understands the main characters' background the purpose becomes more apparent which, in turn, allows the reader to understand the reason behind their actions and the author's narrative choice. As the novel progresses it becomes more emotional. The young children's deaths are traumatic and descriptive, shocking the reader. One daughter was killed in a suicide bombing, whilst the other was shot with a rubber bullet emphasizing the reality during the war. McCann captures the inner disputes of people who are stuck in the middle of conflict. He humanizes the victims, showing that they are not just another number but a daughter, a sister, a mother.
The novel reminded me of the play Us/Them by Carly Wijs, reenacting what had happened during the Beslan school siege. Wijs wanted to show the horrifying events through the children's perspective, attempting to educate children in the audience and allow them to understand what would have been deemed as an 'impossible subject'. McCann's novel is reminiscent of the play as he too tries to approach an 'impossible subject' of conflict and division in a way which is educating to the reader. The main characters Rami and Bassam strive to tell their stories, the story of their daughters' murder. They create a mission to educate others and try to prevent these horrors from repeating.
The novel is crafted in a fresh and new dynamic as McCann incorporates short chapters with inserted images, both literal and metaphorical, to create deeper meanings. There is a lot of bird imagery, perhaps suggesting the need for freedom. The birds can pass over the borders and roadblocks which restrict the humans inside. Additionally, the pictures in the novel make the book unique. The picture of Rami's daughter is the most impactful as what reads as a disconnected narrative suddenly puts a face to the sea of victims. Being based on a true story the daughters' deaths are very much real, and this is emphasised by the photo.
Overall, the novel stands out amongst others with its unique writing style and ability to construe a difficult topic such as conflict. The novel humanizes those who could be potentially seen as an enemy and crafts a narrative the reader can connect with. The message of camaraderie when faced with grief is strong and demonstrates how those with different political views can work together for a more peaceful outcome."
Paige Donoghue 2021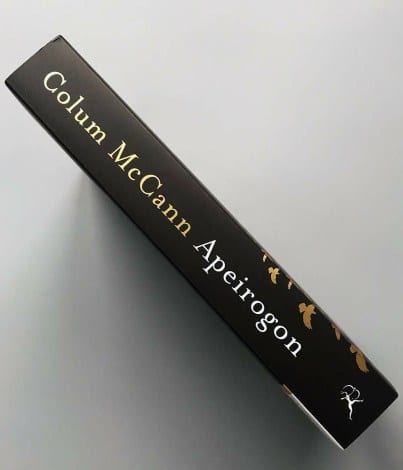 … is a unique peace network with affiliates on every continent, and especially in Gaza, Israel, Jordan, the West Bank, Turkey, Egypt and Morocco.

SUPPORT GAZA STUDENTS
Palestinians value education dearly. Dalia al-Najjar, our Regional Representative, looks at 2021 freshmen In Gaza preparing for the beginning of the academic year and asks you to help future students realise their hopes and ambitions.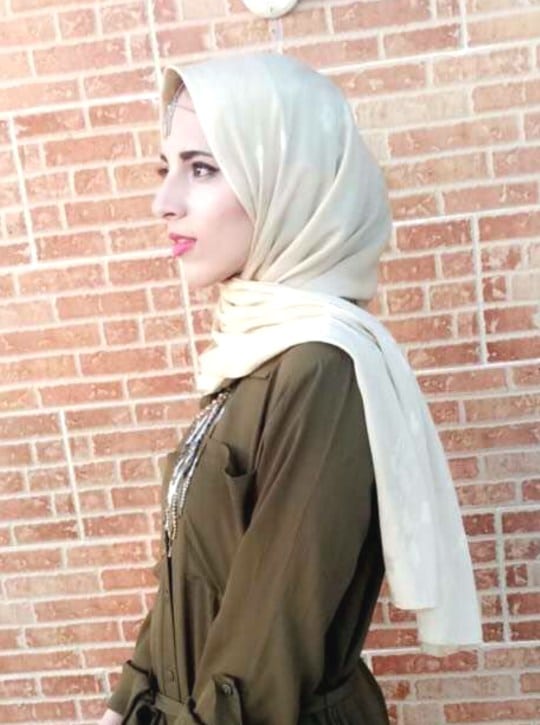 While every academic year is important, focus and pressure is put into the final school year, grade 12, locally known as 'Tawjihi'. The scores of Tawjihi's general examination define the academic future and social status of the student.
This year was very challenging for Tawjihi's students in Palestine, from the pandemic to the most recent aggression on Gaza in May. This year the examination occurred just few days after the aggression ended. Many of Tawjihi's students lost their homes, many lost loved ones. 70 students were injured and four were killed. They didn't get to harvest their hard work.
Despite the tragic events and psychological pressure, the student results yet again showed Palestinian resilience. The pass rate for the 83,000 students who took the exams was a whopping 71%.
Palestinians take the celebration of Tawjihi's results very seriously, from fireworks to gigantic trays of Knafeh [sweet cheese pastry]. Gazans don't miss an opportunity to celebrate any small happiness. It's a tradition to celebrate the success of Tawjihi with parties, rallies, and food gatherings. Everyone asks the student what major are they choosing.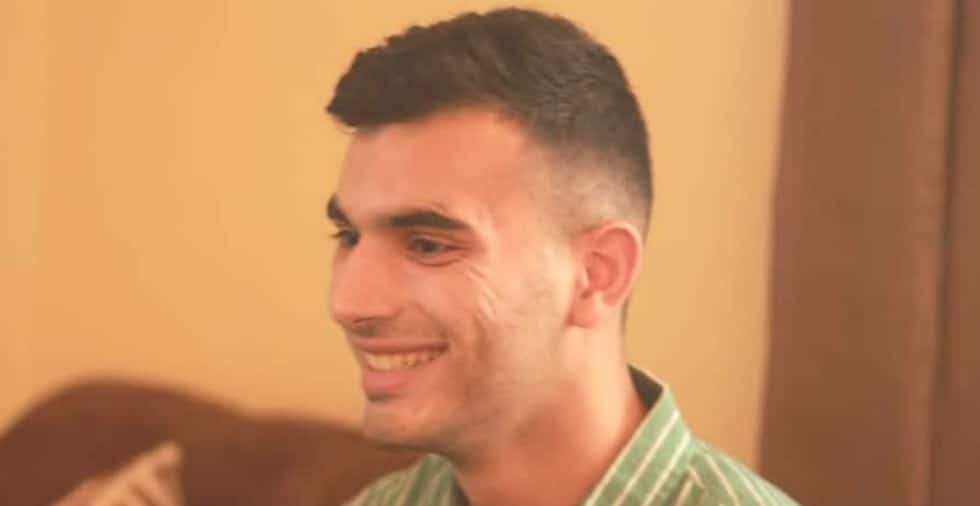 It's common practice for parents to sell their assets to pay for their children's education. According to the Bureau of Statistics, Palestine has one of the lowest illiteracy rates in the world. 97% of Palestinians are literate.
Oday Alfarra (above), 18, recalling the day says,
"I was very nervous waiting for the result's message, a short message that will summarize a year-long effort."
Oday got the result he expected, describing the results day as if it was Eid. His uncles, aunts, and cousins all visited, and started dancing showering him with love and pride. He felt great making everyone around him feel so happy.
In the past few years, a focus on software development, graphic design, and coding tuition have created new and smart ways to get around the high unemployment rate.
Gaza is now a well-known source of freelancers. Tens of companies have virtual teams in Gaza, as Gazan freelancers provide high-quality services at a relatively low cost.
The pressure of Tawjihi on the students is exaggerated but the celebrations match it. Rofida Alhaw, 17, (pictured above) said many of her cousins and family members came early in the morning to witness the moment,
"I was not nervous or worried. I was confident as I had studied hard and already passed the SAT exam. Tawjihi did not intimidate me. When I saw the house full of people, I broke down, I went to my room and started crying, I was afraid to let them down. The hardest thing about Tawjihi is staying sane under all the pressure. It's like a psychological war. Everyone is pushing Tawjihi students to study hard. I'd have a break to relax and something different and I'll be attacked by everyone telling me to go home and study instead."
Rofida is an exceptional 97% student, and has got into dentistry school. She decided that she wanted to be a doctor after her mother was injured in the 2014 aggression on Gaza.
Of the successful 5600 Tawjihi students in Gaza, many are looking for opportunities to travel abroad on scholarships especially to medical and engineering schools. And a lot choose software and computer engineering to have transferable skills.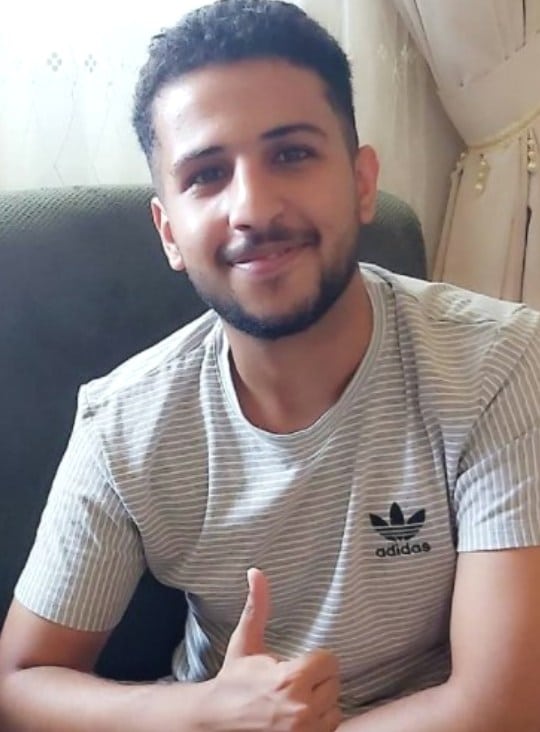 Pictured abover, Abdalrahman Alnajjar,18 says,
"I've always wanted to be a doctor, I studied hard and had this goal all the time. I'm very happy to have gotten into med school. My mom almost lost her leg but for a very good doctor. The miracle the doctors performed inspired me to become a miracle maker too. It's been my dream for as long as I could remember to become a dentist."
Abdulrahman was part of my neighbourhood growing up with few oportunities. He comes from a family with unemployed parents. He deserves to be a dentist, he's such a brilliant young man, and speaks English well. Abdulrahman will become the first dentist in his neighbourhood.
All the students I interviewed are a step closer to their childhood dream. But it is no secret that the poverty rate and the excruciating economic situation in Gaza will deprive many brilliant students of their undergraduate studies. Scholarships are limited, giving only a small number of students opportunity at university.
Med school costs the equivalent of £3,600 a year – ten times the annual minimum wage in Gaza. Abdalrahman whose parents are unemployed said, "It's truly a nightmare". Rofida wanted to choose a cheaper school to not burden her father.
YOU CAN HELP
Often Palestinian students have heart breaking stories, matched with determination to achieve. But many are forced to drop out because their parents cannot afford expensive tuition and transport. Children of Peace with the generosity of your donations has helped 12 nursing students, changing their lives and in turn their family's life.
Children of Peace invites you to donate to support academic students' further studies. Education and knowledge are a highway to peace in the long term. Together we can transform lives, one student, one family at a time. 

Rebuilding Lives
The May 2021 war is over FOR NOW but children's suffering goes on - post traumatic stress, morbidity, nightmares. Children of Peace is set to carry out urgent work with our partners. Please support our #RebuildingLives efforts and help the #childrenofconflict.
Photo credit: Lyle Hastie - Unsplash
FOOTNOTES
Latest news from around the region compiled by Sarah Brown.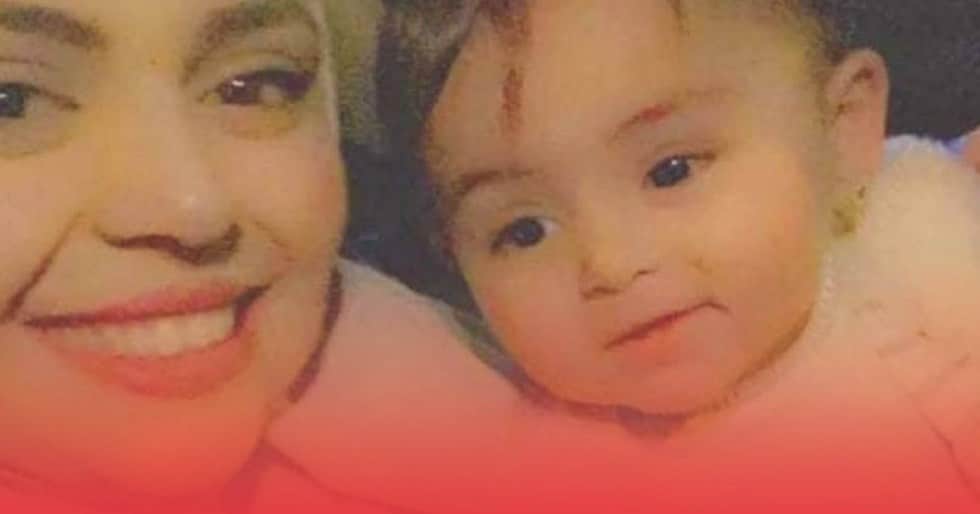 Anhar Al-Deek's release on bail
The treatment of Palestinian detainees, in particular children, has long been a flashpoint of contention, with many raising concerns about both specific abuses and a disparity between the treatment of Israeli citizens and Palestinians.
25 year-old Palestinian woman Anhar Al-Deek was detained five months ago, accused of attempting to stab an Israeli settler. Allegedly, she broke into Sdeh Ephraim, an illegal Israeli farming settlement in the West Bank, where she attempted to attack one of the farm owners with a knife.
However, following a campaign by activists and human rights defenders, an Israeli court has now ruled that she should be released on bail as she was nine months pregnant.
Al-Deek will remain under house arrest in her family home near Ramallah.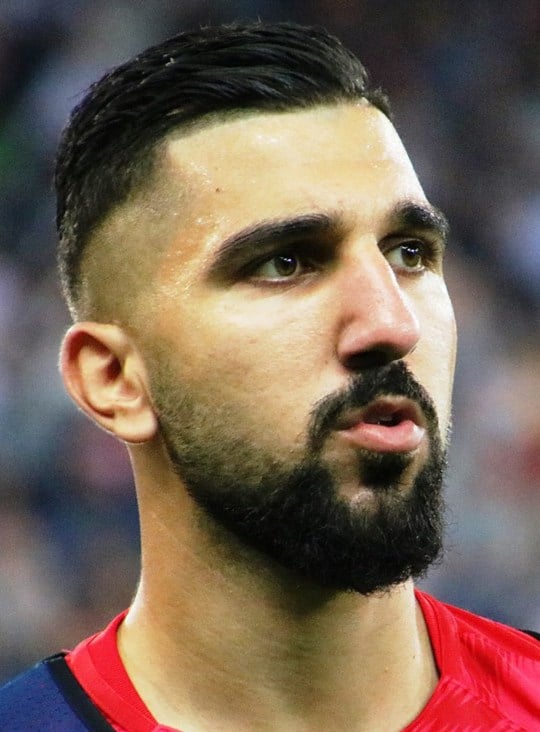 Success – and controversy – for Israeli football team
On 4 September the Israeli team followed up its decisive 4-0 victory over the Faroe Islands with an impressive 5-2 win over Austria playing to home crowds in Haifa. Head Coach Willi Ruttensteiner was full of praise for his team's performance:
"It was all the players. I am very proud of the team as they played above of their level and gave everything. People are beginning to see that this team as a unit. As for our World Cup chances, we should not dream but have patience as there are many games to be played but right now we are in good position."
However the celebrations were marred by controversy. Arab-Israeli forward Munas Dabbur (pictured here) was booed by Israeli fans throughout the match even though he contributed to the victory by scoring a goal.
Although Israel – in common with many other countries – has problems with racism in football, Dabbur is currently a focus for particular hostility. Back in May, he posted an image of the Al Aqsa mosque accompanied by a verse from the Qur'an: 'God will deal with the perpetuators of injustice'. It was felt this message was provocative and could fuel tensions, so Dabbur was temporarily suspended from the Israeli side.
Team mate Eran Zahavi came to Dabbur's support after the match:
"It was unpleasant, but he expected it. We understood it would happen but I think we as a team and Munas in particular handled it incredibly… It is a conflicted country, we will never be able to fully understand each other."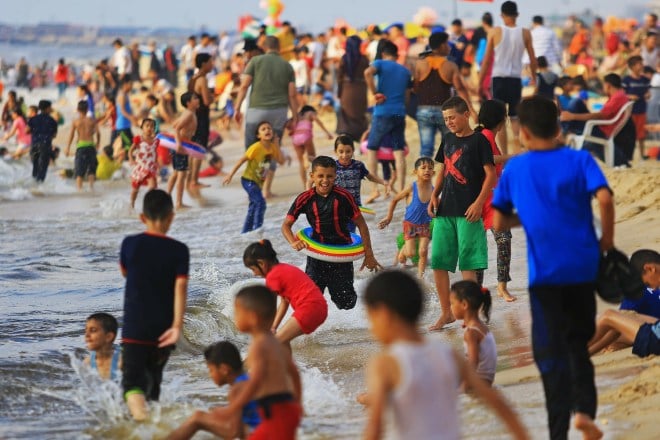 Eco-friendly café opens in Gaza
Despite all the challenges facing Gaza, it is home to numerous startups, including many with an environmentalist emphasis. 'The Sea is Ours' is located on the Gaza City beach, and it is hoped it will encourage the many visitors to this popular leisure space to rethink their habits.
The project is run by a group of 20 artists and activists who have built their café from recycled junk – wood, tires, plastic, and domestic appliances which would otherwise have gone to waste. The initiative was prompted by anxieties about pollution threatening the local environment, in particular the beach.
As well as being a café, 'The Sea is Ours' offers a space for various creative and educational activities, including workshops where children can learn how to make new items from waste materials.
You can read more.