The funds will help the children. You can still support our team at...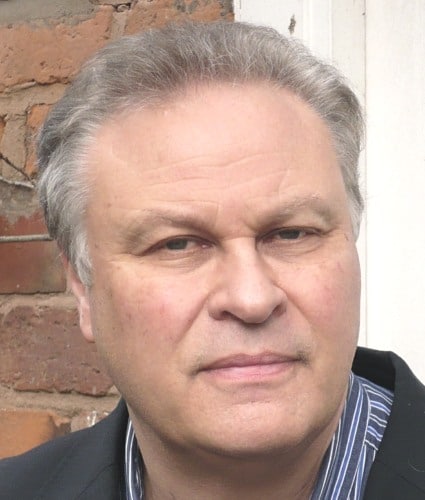 In Gaza and in Israel, young people are speaking out against this relentless, nihilistic cycle of revenge, hatred and indiscriminate violence. We Want to Live, the courageous movement of young Gazans protests against Hamas and the Israeli blockade. It's been largely ignored by the international media – to their eternal shame.
Dalia, our correspondent tells us about it.
And as I write, we have been close to a devastating and unpredictable ground war in Gaza as Israeli forces prepared to retaliate against the indiscriminate firing of 600 – 1000 missiles into Israeli civilian populations on the Gaza border. It is a wretched situation that must seem unending for the people on both sides. Thankfully, the extraordinary Egyptian negotiators have cooled tensions between Israel and the Gazan factions, yet again.
The terrible events in the past few weeks serve to highlight the plight of the children of conflict. Children have few choices. They are the invisible victims of over sixty years of conflict. Children of Peace gives a voice to those children. It is a vital step on any real road map to peace.
Please… DONATE NOW
Richard Martin FRSA, President & Founder.
This time round we have…
A new Friend and a new Affiliate join us.

The 10K British Run.

Interview with Elizabeth Arif-Fear.

Plus Dalia and Jesseca's missives, and Footnotes.
STATEMENT
"Children of Peace strongly condemns the latest outbreak of violence between Hamas and Israel. We urge both sides to safeguard civilian populations. And to make every effort to protect children from the consequences of armed combat, whilst seeking peaceful solutions to this conflict."
"Blind hatred leads only to a world of greater darkness."
"Taking sides will always be the enemy of peace."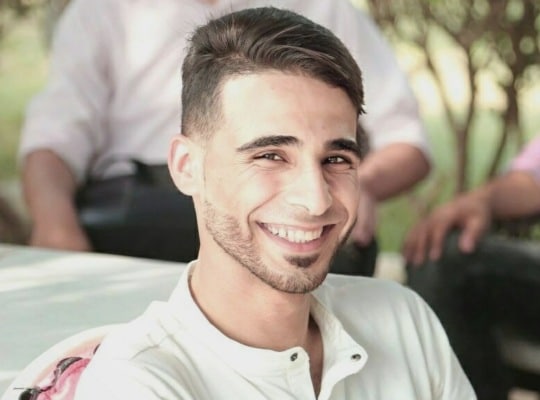 In the latest of her despatches, Dalia Al-Najjar reflects on Mohammed Shalma and the 'We Want to Live' movement in Gaza.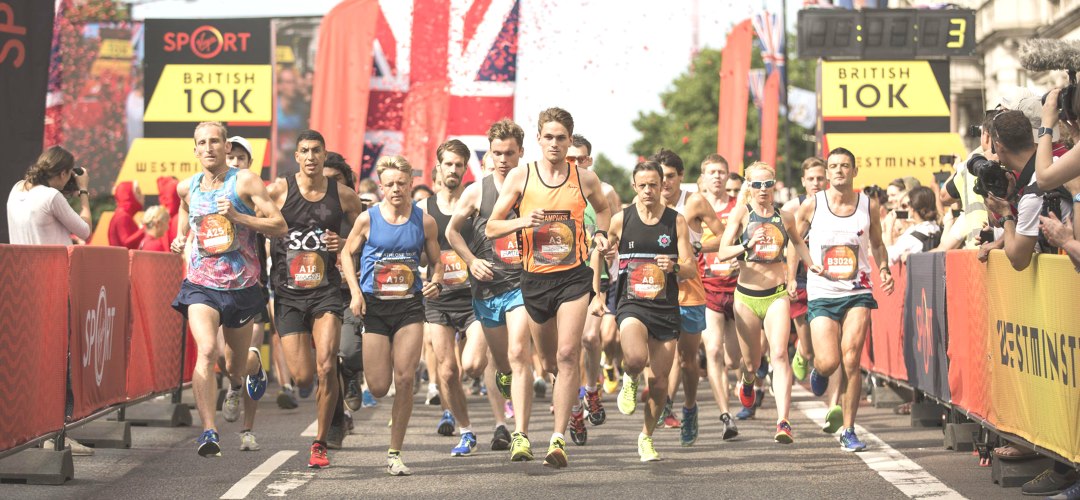 Every year the Children of Peace Team runs to raise much needed funds for the children of conflict in Israel and Palestine.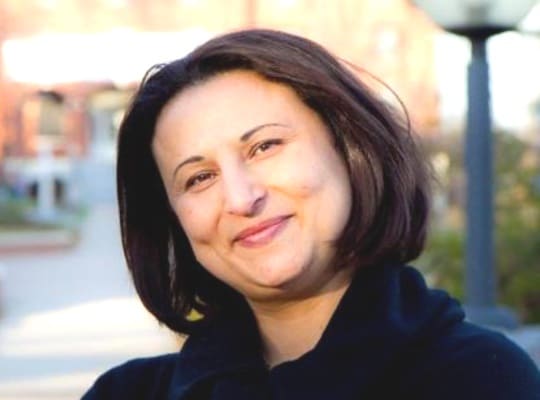 We are delighted to welcome a Palestinian peace activist as a distinguished Friend of Children of Peace.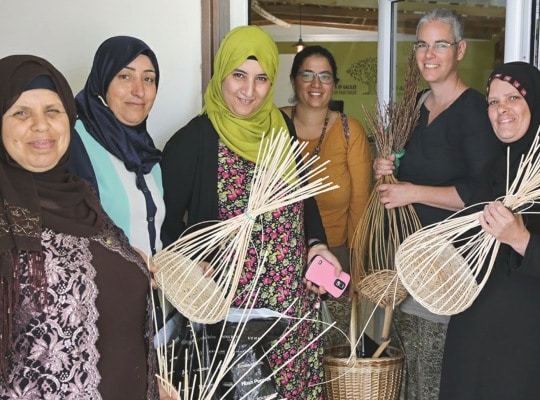 Israeli journalist Jesseca Manville looks at one of our Israeli affiliates – Sindyanna of Galilee.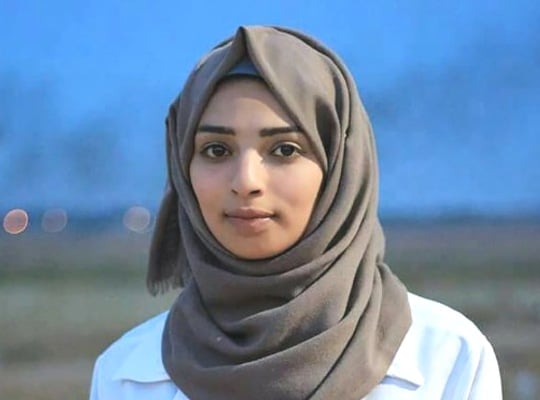 This is an annual Children of Peace Award, granted in August each year. Support it please.
LETTER FROM DALIA
Our Gaza correspondent Dalia al-Najjar writes a passionate and powerful article on the courageous 'We Want to Live' youth movement in Gaza and its tragic consequences.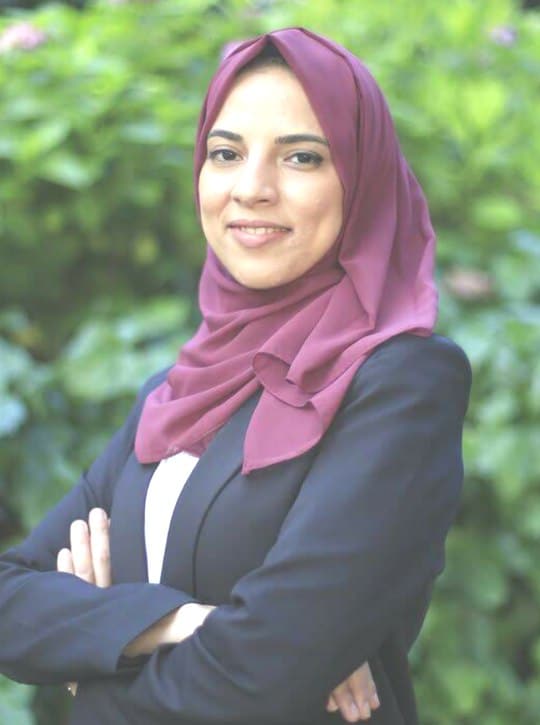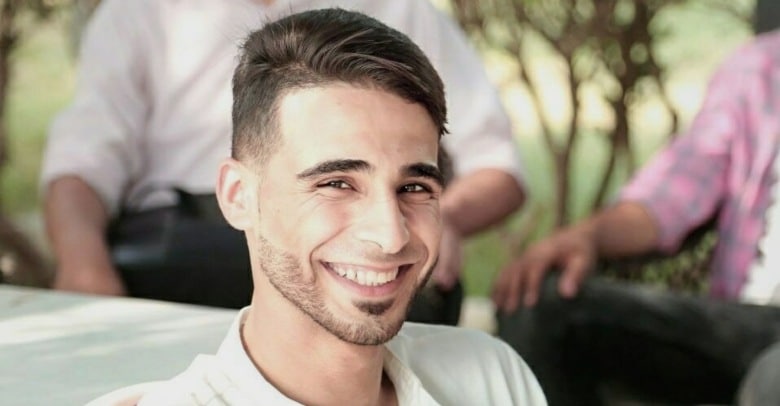 In Pursuit of Decent Life: Gazan Youth Between Repression and Death.
Youth makes up a large portion of the population of Gaza, they are vigorous and eager to create positive impact. But it's no secret that large numbers of the unemployed and frustrated Gazans dream of emigrating or more accurately "escaping" the open-air prison.
Gazans have been living under a pall of fear and frustration which they cannot do much about it. They can't even speak up against the occupation or the corruption and they definitely cannot point out the wrongdoings of the "government", Fatah nor Hamas. With both freedoms of movement and of speech being restricted, Gazan youth are empty handed. In March, a group of young activists started protesting against the newly imposed taxes and the general deteriorating situation in Gaza demanding for nothing but a life that doesn't feel like death. Activists promoted the protests via Facebook under slogans like "The revolt of the hungry," and the widely known "We want to live." The protests were brutally cracked down.
Mohammed Shamla, 25 (pictured above), wrote a great post on Facebook, before leaving for Turkey earlier this year in pursuit of a decent life, Mohammed's letter to his mother sums up the frustration and feelings of the majority of young people in Gaza,
O mother, I can't bear the pain of leaving you preoccupied about me day and night. But Mother, I've graduated from university and I don't stand a chance. Opportunities are not for us "the normal people". I have no future here and there is no light at the end of the tunnel. We are in Gaza, in a very dark place; life here is but a slow death.

Mother, I'm not leaving to see the world and find happiness; I'm fed up with everything, but I want to build me a future and I don't want to beg my father for money every time I needed something.

Mother, I am fleeing because I'm helpless and hopeless, I'm tired of waiting for my turn. Mother I have been offered to work in a bakery for ten Shekels an hour! Mother, why am I this desperate and needy?

Dear Mother, I heard a song once that said I shouldn't feel humiliated and to always keep my shoulders high when I am in my homeland. But is there more humiliation than this life? My shoulders are on the ground.  If I stay any longer here, they will walk all over me because I don't speak up.

Mother, the environment here is very toxic, they are willing to kill me if I told them I want to live. I know our neighbour's son who is younger than me, found a job and figured out the life here, but we had different lives and we are living under different circumstances, we have different fathers. He's a son of an elite and I am a son of a random. Mother, some of my friends and relatives travelled and started a life, mother let me go try my luck, I won't lose anything but seeing you every morning,  and the money from my father's loan and the money I borrowed from my uncle, which I swore a million times that I would pay him back once I figure things out.

Mother, I am not hungry, and you all are not stingy, and you answer to all of my needs, but I cannot stay in a place where young people dream of a contract job in an employment project with a salary less than the minimum wage.

Mother remember the jungle in the stories you told me when I was younger where a rabbit got lost and all the beasts went on a hunt for it. I'll tell you the same story now, we are living in the jungle and I am lost, the beasts here are poverty, employment, and crisis. Which scare me more than anything else.  Please forgive me for going far away to try my luck at finding a better life. But I will lose nothing except your smile.

Pray for me. You are my red line."
Mohammed died in Turkey on April 12, 2019, he succumbed to his wounds and died in an intensive care unit in Turkey. He died waiting his turn to get smuggled to Europe. He fell from a balcony while attempting to escape police who raided the place that he was staying in with other asylum seekers and migrants who are waiting for a chance. Shamla fled Gaza earlier this year after several attempts and paying hundreds of dollars in bribes. He was living in Turkey on an expired tourist visa.  
Mohamed graduated in 2017 with a major in English language and teaching, and spent more than a year struggling to find a decent job. He was an activist for freedom and youth, a loving son, a caring brother and a beloved friend.
Think about him and his words every time you think of Gazan's youth who are making it, not making it and trying to make it in life. Hope and lack of it, both, are unmercifully reaping Gazans young souls.
OUR 2019 10K BRITISH RUN TEAM
Every year the Children of Peace Team tackles the 10K London Run to raise much needed funds for the children of conflict in Israel and Palestine.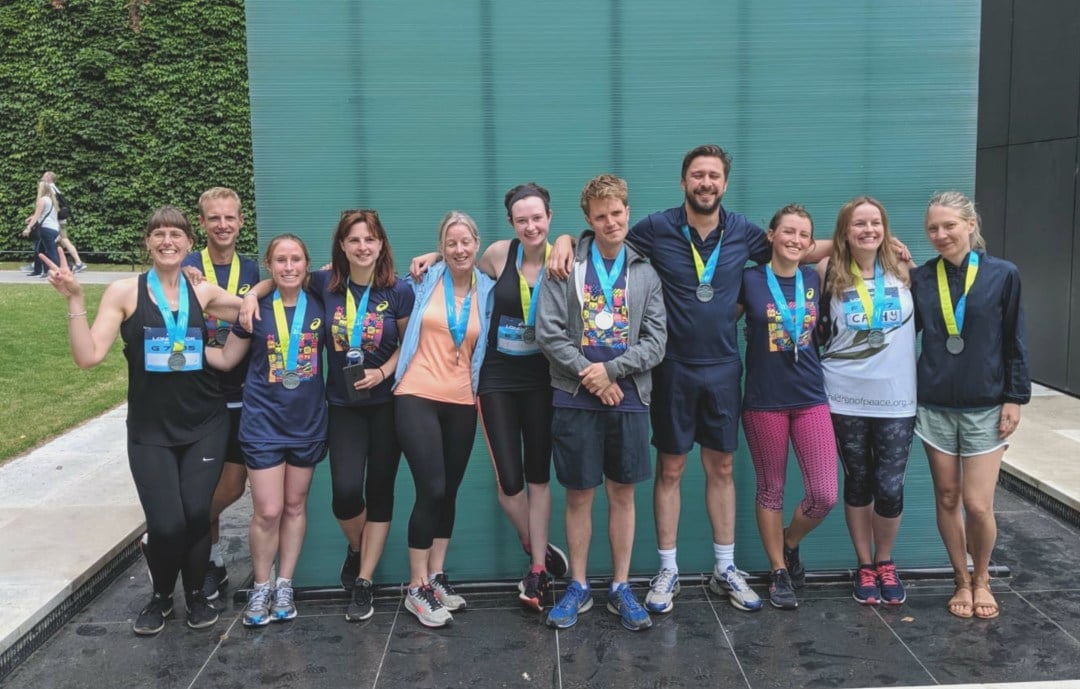 The 2019 10K took place on Sunday, 21 July, in central London. You can find out more about the run. 
The Team included members who have run in support of our work right from the start and participants from the 2019 Palestine Marathon in March.
PLEASE SUPPORT OUR RUNNERS
You can still sponsor our Team at JustGiving. Thanks.
The Run took in some of the most iconic landmarks in London including the Houses of Parliament, Trafalgar Square and St. James's Palace, and followed the route below.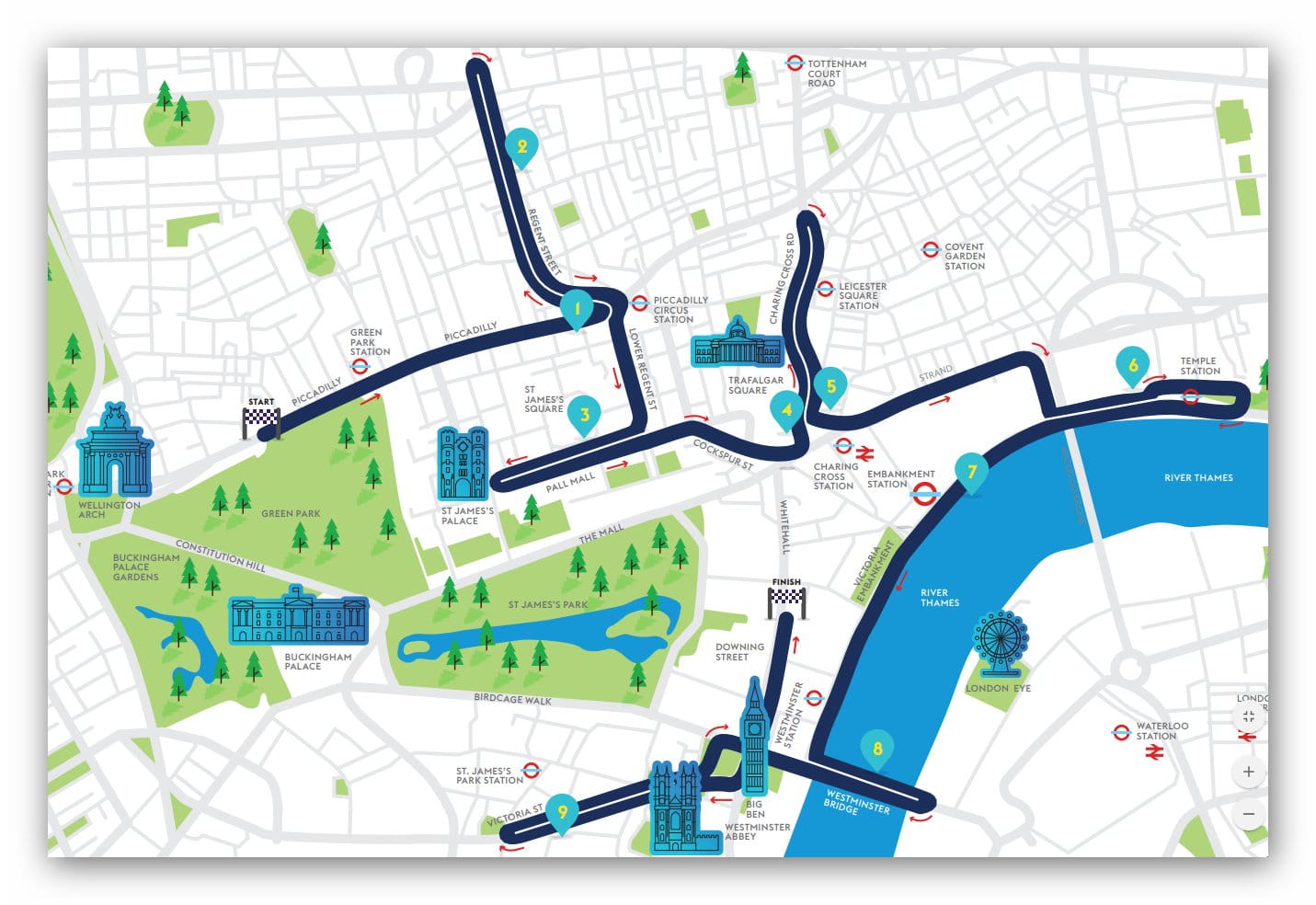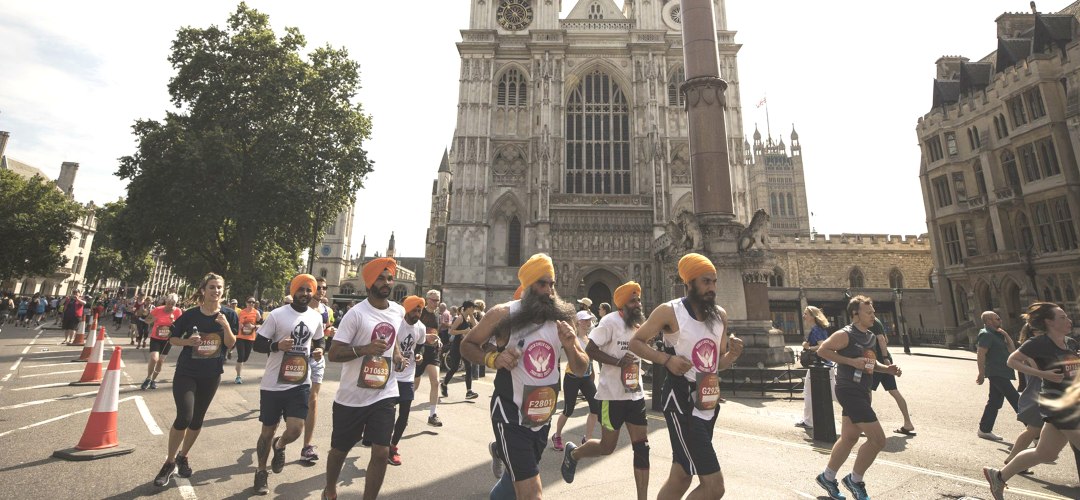 HUDA ABUARQUOB BECOMES A FRIEND OF CHILDREN OF PEACE
We are delighted to welcome Palestinian peace activist Huda Abuarquob as a distinguished Friend of Children of Peace.
"The biggest gift we give to our world is our children, our mission as adults is to provide as much as we can the best environment for them to grow and reach their utmost potential as citizens of a free world, Children of Peace would be the partner to help us in this mission."

Huda Abuarquob, Regional Director ALLMEP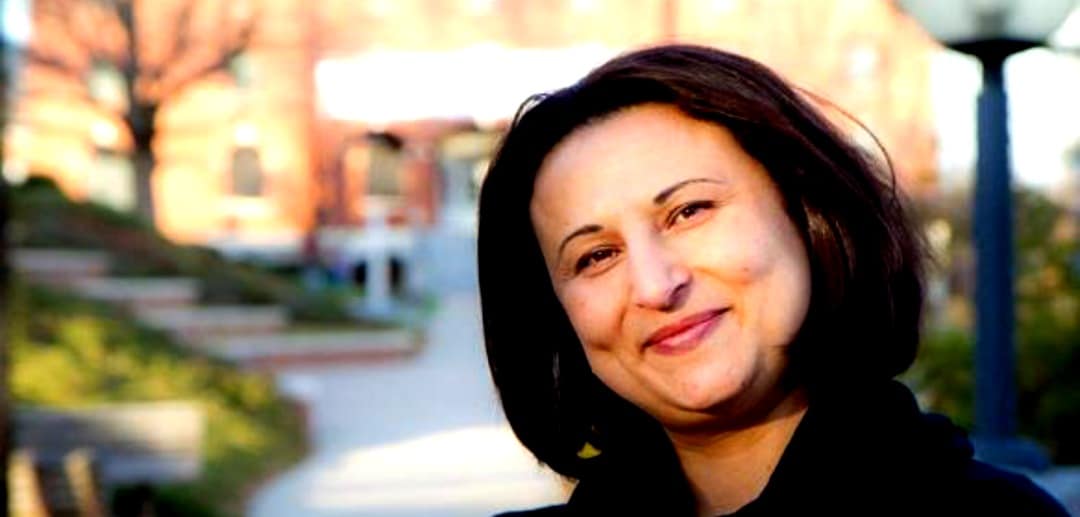 Huda Abuarquob is the first on-the-ground regional director of the Alliance for Middle East Peace (ALLMEP), a network of more than 100 civil society organizations working in conflict transformation, development, and coexistence in the Middle East among Palestinians, Israelis, Arabs, and Jews. She has years of experience in conflict transformation, NGO leadership, and social change education and activism, as well as a life-long commitment to building strong people-to-people relations across conflicts.
Huda has long been an active leader in grassroots Palestinian and Israeli initiatives focused on Feminist Inclusive Political Activism (FIPA) and track two diplomacy. She is a well-known speaker on issues related to Middle East politics and the Israeli-Palestinian conflict, narratives of competing victimhood and narratives of liberation. In January 2019, she participated in designing, teaching and evaluating an interfaith study tour on women in the three Abrahamic religions called Hakima.
After studying conflict transformation and peace studies as a Fulbright scholar, she worked as an executive director, a program director, and an NGO consultant to several organizations in the US, and Palestine. She has taught and trained hundreds of students in Israel, Palestine and the U.S. She has long been an active leader in grassroots Palestinian and Israeli initiatives focused on Feminist Inclusive Political Activism (FIPA) and track two diplomacy.
Previously, Huda worked as a teacher, trainer, and consultant for the Palestinian Ministry of Education for fifteen years. She earned her M.A. in conflict transformation and peace studies from Eastern Mennonite University and her B.A. in education for social change from Al-Quds Open University in Jerusalem. Huda is the oldest of twelve children, the daughter of respected Palestinian educators, and an aunt to twenty-eight nieces and nephews.
Born in Jerusalem, she has travelled extensively in Europe and the Middle East, lived for eight years in the US, and now resides in Dura – Hebron. Huda was honoured in December 2017 with the first-ever Laudato Si' Prize, awarded at the Vatican in honour of her lifelong commitment to peace and peacebuilding.
THE JERUSALEM YOUTH CHORUS JOINS US AS AN AFFILIATE
Children of Peace welcomes The Jerusalem Youth Chorus as a new affiliate member to our Coalition of Peace – now the single, largest peace network across the MENA.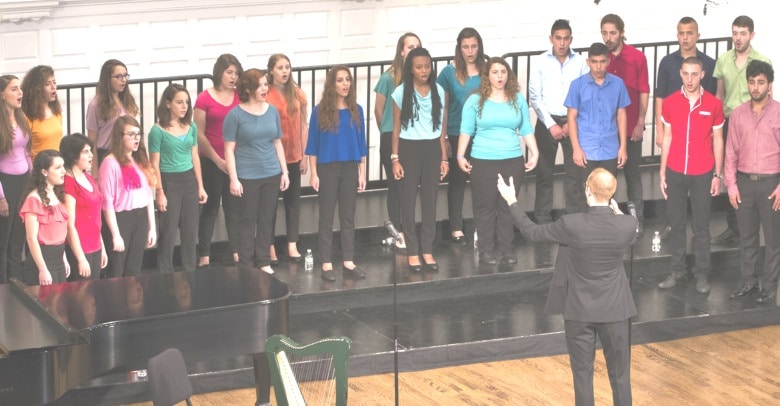 Here Founder and Director Micah Hendler, tells us about their important programme…
"The Jerusalem Youth Chorus is a choral and dialogue programme for Israeli and Palestinian youth. We have been featured for our innovative musicianship and integrity of purpose and process from BBC's Newsnight (picture below) to the New York Times, and our music video "Home" has amassed over 400,000 views. In 2017, our Founder and Director Micah Hendler was selected as one of the Forbes 30 Under 30 for his chorus work, and in 2018, chorus alumna Eden Alene won Israel's X Factor competition.
The Jerusalem Youth Chorus is unique in its combination of music and dialogue programming. We go beyond simply singing together, delving deeper into one another's life experiences and communal narratives through an intensive facilitated dialogue process.
Musically, the Jerusalem Youth Chorus seeks to reflect the values of equality and inclusiveness upon which we are based, and therefore draw heavy influences from both East and West in our repertoire and musical style. As such, we seek to innovate and challenge boundaries musically as we do in the non-musical elements of our program.
We have been consistently inspired by the work of Children of Peace and are honoured to share this mission to empower tomorrow's leadership for a peaceful world."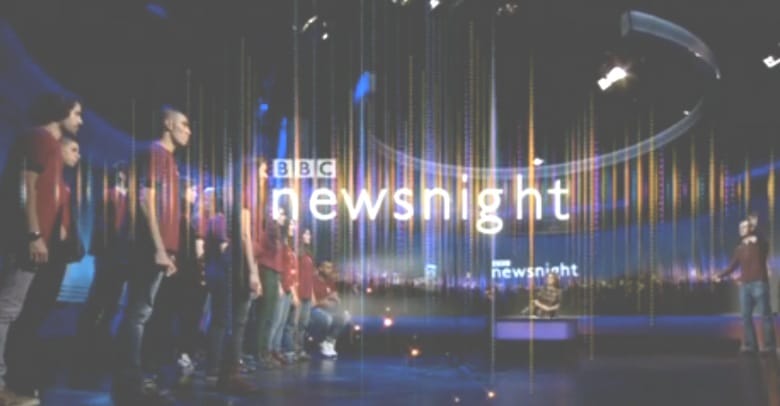 … is a unique peace network with affiliates on every continent, and especially in Gaza, Israel, Jordan, the West Bank and Turkey.
THE CHILDREN OF PEACE INTERVIEW: ELIZABETH ARIF-FEAR
In the latest in her series of exclusive interviews for Children of Peace, Professor Sarah Brown talks to Elizabeth Arif-Fear – the writer and human rights campaigner based in London.
Elizabeth founded the online platform Voice of Salam in 2015 in order to inform others about a range of human rights, interfaith, social and cultural issues and provide campaigning advice. Her first collection of poems, What If It Were You, was published in 2019.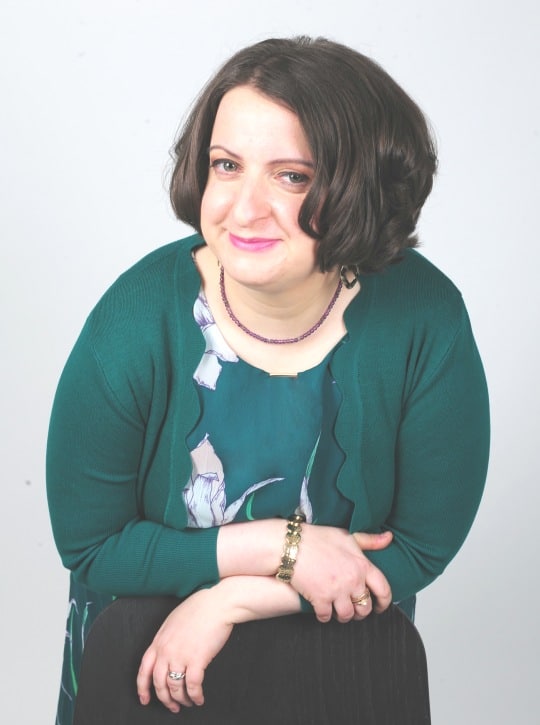 Sarah Brown: Could you tell us something about how your interest in interfaith work developed? What prompted you to get involved, and to set up Voice of Salam?
Elizabeth Arif-Fear: My interest in interfaith work first developed really after I converted to Islam...
… as it was only then that I became comfortable with my faith and was sure of my beliefs. Before then I didn't really have much of an outward religious identity. I identified as Christian but I was in between trying to find out what that meant to me, what I believed, what having a faith was about and was trying to finding a space where I felt comfortable and that I belonged in. At that time, I didn't know my faith well and wasn't particularly engaged with faith-based spaces.
I've been interested in human rights since I was a teenager and began campaigning with Amnesty International during sixth form. At university – studying languages, translation and human rights – I wrote a lot on intercultural communication, multiculturalism and issues surrounding integration, antisemitism, Islamophobia, migration and identity. These strands of social justice, diversity, human rights and faith really merged really when I adopted my new faith and I began to respond to issues surrounding Islamophobia in light of the then upcoming presidential elections with Donald Trump.
I was also aware that as a convert to Islam, many people (coming from such a "mixed background") saw themselves as "bridge builders" and that was something that inspired and made me think: "That's where I belong" and that's what I'd like to do!
I set up Voice of Salam back in 2015 when I was living in Spain. I wanted to continue to engage in human rights issues and given my experiences of living as a British Muslim in Spain and the socio-political issues at the time surrounding ISIS and the upcoming US elections with Donald Trump, faith and interfaith relations naturally became a part of my writing. When I later moved back to the UK, I was able to really engage with interfaith work given the range of opportunities available. I joined the planning committee for an upcoming peace event in my hometown and it went from there really!
SB: The Voice of Salam blog touches on some controversial issues. Which posts have received the most attention?
EAF: Funnily enough, to date, the most visited post has been...
… the feature: 12 quotes depicting women's quality in Islam. Going by the search terms listed, my guesses are that people from both Muslim and non-Muslim backgrounds are looking for information on the issue. The idea that Islam is/isn't a misogynistic religion and the abuse of human rights across the globe, including in nations based on Islamist theocracies such as Iran and Saudi Arabia, obviously is widespread. So, I suppose it's sadly not that surprising.
I am surprised however how it keeps getting more hits though! It's intriguing how Muslims are searching for more information on this topic. This blog is only a short piece but I hope people found it informative. There are lots more features on women's rights and feminism in religious and non-religious contexts on Voice of Salam as women's rights are something that I'm incredibly passionate about and which are sadly under attack throughout the globe in various contexts.
Likewise, a feature that I wrote for the blog She Speaks We Hear on examples of everyday sexism in the English language, which I've shared on Voice of Salam has also been popular. I think that it's something that women can relate to and helps to put things into a daily context. It's certainly helped me to think about the language that I use! By simply looking at the language we use and our own behaviour we can work to greater address the underlying sexism and misogyny so present in our society today.
Lastly, I think general education on what human rights are and why they are important is really crucial and that's been reflected in the piece 10 reasons why we need human rights, which is the second most viewed blog post to date on Voice of Salam. It again offers a short overview of a vast often misunderstood but crucial area. Knowledge is the first step to appreciation and empowerment after all!
SB: Your collection of poems, 'What if it were you', engages with similarly challenging topics. What made you turn to poetry to express your thoughts and feelings about the causes you feel deeply about? 
EAF: As blogger, I'm always keen to raise awareness of critical issues.
It was actually however last year when Eastern Ghouta (Syria) was under siege that I really began to reflect more deeply on the issues at hand in Syria.
I'd published features on the conflict/human rights abuses in Syria before and with the conflict by now years old at the point, the British public were well aware of the suffering. However, with the siege, it became so much rawer. Humanitarian aid and political pressure were continuing to address some of the issues, but underneath it all I was left thinking: "What else could we do?". There were men, women and children at that moment in time (and still are) in such dire circumstances, people literally under siege thousands of miles away and sadly ultimately nothing could change unless there was the political will within Syria itself.
I couldn't imagine how frightening and unbearable that must be. It's that feeling of sadness, helplessness and common humanity and empathy for our brothers and sisters – our fellow human beings – that really got me thinking and reflecting and which ultimately led me to writing poetry.
Poetry is such a raw, emotional form of expression. I'd love writing poetry as a child but had lost touch with it. As I was then walking and thinking about the issue of Eastern Ghouta one day and I felt the urge to write a poem. I often come up with ideas whilst I'm walking or out and about as it's a time when I'm able to think and reflect alone. At that point, I'd conducted interviews on the issues before but now it was so much deeper than that. The idea of imaging if it were us in that situation came to me and I wrote the poem "What If It Were You?" that night. I then shared it with friends and family and a friend suggested writing an anthology and it went from there!
SB: Could you tell us something about the relationship between your faith and your concern for women's rights? (Both anti-Muslim bigots and very conservative Muslims often insist that Islam and feminism don't mix!)
EAF: Well, I've always been a proud feminist and I've been a Muslim for around seven years now.
I've studied feminism both as a non-Muslim and a Muslim from both a secular and more theologically-based perspectives (e.g. Islamic Feminism) and issues around religious freedoms in Europe affecting Muslim women (such as bans on hijab in France). As a non-Muslim, I knew a fair bit about Islam and I knew the difference between politics, culture and religion vis-à-vis the Muslim world and Muslim women.
It's safe to say that if I felt that Islam denied the rights of women, I never would have converted to Islam! The (renewed) respect for women at the time of revelation and in that historical context the subsequent rights outlined to women were obviously something that I recognised and valued before converting to Islam. So, for example; the right to divorce, work and keep all your own earnings, the impermissibility of forced marriage and the outlawing of female infanticide (amongst many other issues), helped me to appreciate the faith. I never doubted that as a woman I'd be anything other than an equal on theological, sexual, emotional, political and financial grounds. Whilst over the years my faith has matured and I've learnt a lot and changed my views on certain things, I adopted Islam with full appreciation and still feel that deep love and appreciation for my faith. I feel I've come "full circle" as I've learnt, lived, explored and grown in confidence and the feelings remain the same but my outlook and approach regarding revelation, renewal and faith in today's modern world are however now more much pronounced, nuanced and pragmatic.
As an activist, I campaign a lot for human rights (including women's rights) and this includes the Middle East (predominantly Iran). I work in secular circles as well as looking at things from an Islamic and Muslim perspective – addressing theological interpretations and socio-cultural realities. As a Muslim woman and a human rights activist, I feel strongly about protecting the rights of women (both Muslim and non-Muslim) worldwide, including in countries such as Iran and Saudi Arabia where literalist/extremist interpretations of my faith are used and politicised to deny women of their rights. This is something that as I have grown in confidence and nuance in my faith, I will undoubtedly continue to work on. I think as a Muslim woman, to see the abuse of my faith makes campaigning on these issues much more powerful.
Likewise, as someone who wore a headscarf for around seven years and wrote her MSc thesis on the ban on facial coverings in France, I feel strongly about recognising intersectionality and building inclusive spaces. Feminism is about inclusivity and allowing women the choice to dress, work, live, worship as they feel/wish to – whatever their faith or non-faith background.
SB: The conflict in Israel/Palestine often becomes a focus for antagonism between Jews and Muslims in the UK. Could you tell us how you came to write your poem 'Family Reunion', and what you'd like readers to take from it? 
EAF: It certainly has.
The Israeli-Palestinian conflict is a big issue and I wanted to add something in the book that touched upon this issue but in a more nuanced, non-antagonistic manner. We really do need to strip away the "black and white" notions of the conflict and build greater unity and understanding between Jews and Muslims – something which is however sadly so often lacking.
Through the poem "Family Reunion", I'd like readers to reflect and remember just how close Muslims and Jews are theologically. I hope they can empathise with the often deemed "other", that they can understand and feel the need to unite not divide. The poem ultimately calls for reflection, a pause to the constant conflict and to recognise just how close we are – to "go back" to the beginning so to speak.
It's only by building these bridges, empathising with one another, understanding the "others" history, feelings and realities – recognising that both people have suffered and deserve safety, peace, security and freedom – that we can call both political sides to account and start working towards reconciliation and a long-term sustainable solution to the ongoing conflict (hopefully a stable (two State) solution). I hope that the poem can shed light on some of these issues and needs in what has become an incredibly polarised, often toxic area of politics.
SB: Is there a poem you'd like to pick out to discuss, either because it's something you feel passionately about – or found difficult to write – or it's elicited strong responses?
EAF: One particular poem which I went through a bit of a "back and forth" process with was the poem "#MeToo".
I originally started by writing the poem from the point of view of the abuser to show the excuses he'd give and highlight the effects of the current blame culture. However, after adding the women's side (response), I then came to realise that this is an area with so many misconceptions and with such a toxic blame culture surrounding ideas around what women were wearing, doing, saying etc. at the time/prior to the abuse occurring, I decided that I couldn't give space to the (male) perpetrator.
This was a bit of a learning curve, but understanding how people come with their own biases, pre-conceptions and ways of interpreting a text, I wanted to be explicitly clear with my message. I therefore decided to place the survivor at the centre of the piece and highlight her (and only her) voice by removing the first section.
It was surprising how long the poem eventually became but there was so much to delve into – her feelings, the unfolding of events, the blame she faced, the "shame" placed onto her and the subsequent struggle to get justice (which is never given). This story is typical of many survivors and one which we must keep raising awareness of.
We must break down this toxic blame culture, we must stop excusing violence and we ,must stop blaming innocent survivors by discussing "what they were wearing", "what they were doing", what their prior relationship was (if any) with the perpetrator etc. We must challenge these narratives and ultimately, the process of writing this poem just goes to highlight the issues at hand. We need to do more and we need to raise the volume on these issues. Above all, we must place the survivors at the centre, listen to their needs, wants, experiences and pain and not excuse the perpetrators of such terrific abuse.
The Children of Peace Interview covers a range of viewpoints regarding the Israeli-Palestinian conflict, and may not necessarily reflect that of Children of Peace.
VOICES FROM ISRAEL
In the latest of her regular series, Israeli journalist Jesseca Manville takes a look at the work of one of our Israeli affiliates – Sindyanna of Galilee – a Jewish and Arab women's farming co-operative.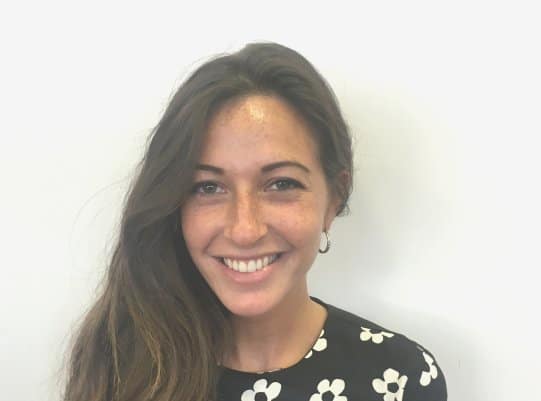 Nestled in the heart of Israel's fertile Galilee region is the Sindyanna project, a female-led non profit that is working to bridge cultural divides between Arabs and Jews through a shared cultivation of the land. With female economic empowerment, sustainable agriculture and peacebuilding at its core, the organisation's unique impact is felt in all three corners.
"The first element is the sisterhood, here we connect on the principles of society and tradition," Nadia Giol, veteran peace activist and group facilitator at Sindyanna explains.
"The second element focuses on common life, namely the political situation between Israelis and Palestinians. The third matter is the sensitive issue of the land: who it belongs to and who can benefit from it," she continues, describing the projects work as a form of on-going nonviolent communication between the two communities.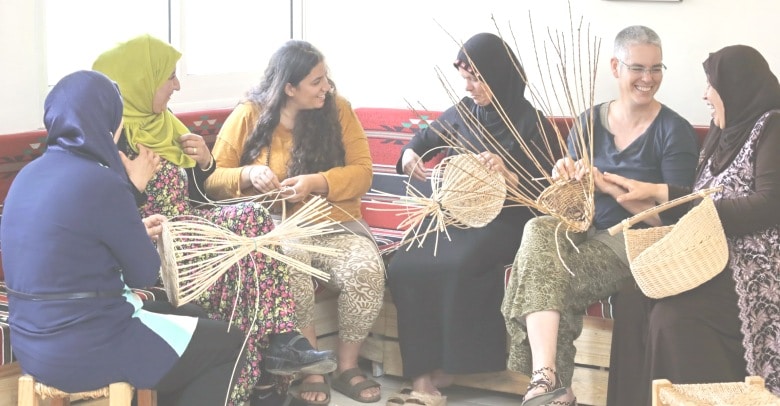 With a focus on the production of local goods such as olive oil, za'atar spices, carob syrup, almonds and honey as well as merging traditional Arab farming with modern techniques, Sindyanna seeks to stay true to its roots. In particular, the significance of the olive tree to both the Palestinian and Jewish peoples provides a shared narrative and mutual tie to the land that both sides can sympathise with.
"When we work together around the issue of the land, it forms trust, we can work together around the same thing. It's not for you or for me. It is for all us," Nadia continues.
Alongside the obvious coexistence building elements, the Sindyanna project is actively providing opportunities for Arab-Israeli women who are often overlooked by society or traditionally expected to remain in the home. Inspiring the women to become agents of change in their communities has become the central mantra of the project.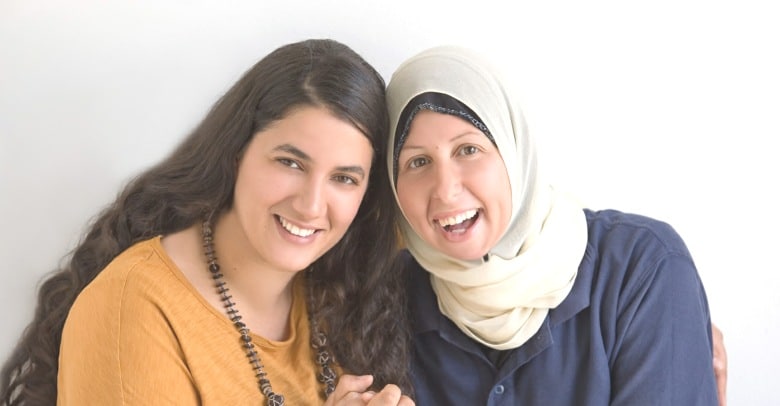 "Working at Sindyanna gave me the possibility to save money for my children's higher education for the first time," Mona Nakhle, 40 year-old mother of four said. "From a social point of view, my job has opened up a whole new world for me, it has strengthened my professional skills, and created excellent social connections."
Shrin Awawde explains how she used to spend days at home as a housewife but since working for Sindyanna, she has gained a new purpose becoming a role model for her three daughters who now aspire to go to university. "Their lives will be completely different because my experience shows them that they can achieve great things," Shirin says.
And Sindyanna's success is not just confined to the Galilee, it has made international waves with the fair trade products being sold to worldwide. It's olive oil has won a string of prestigious awards in global competitions.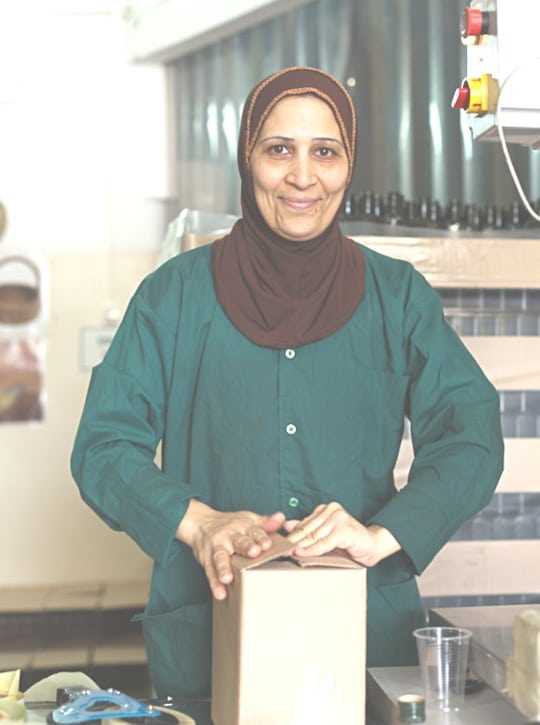 PLEASE SUPPORT OUR RAZAN AL NAJJAR NURSES BURSARY, GAZA
The Razan al Najjar Nurses Bursary is an annual Children of Peace Award and will be granted in August each year in partnership with the Palestinian Nurses Association, Gaza.
The Bursary is in honour of the memory of Razan al Najjar, a 21 year old Palestinian paramedic shot dead during the Right of Return protests at the Israeli-Gaza border 1 June 2018.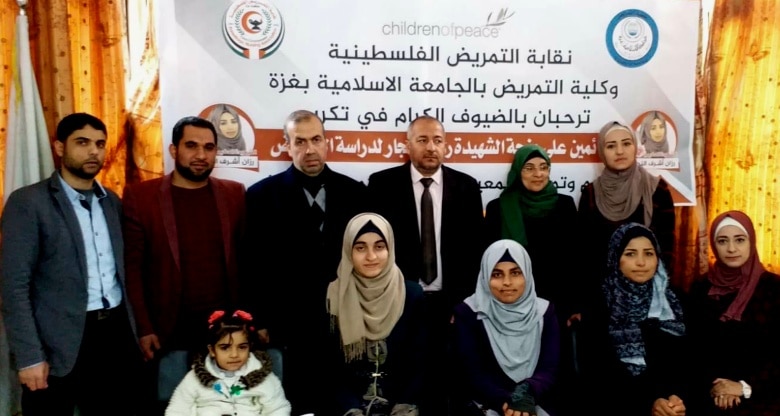 Razan al Najjar Bursary presentation with recipients (centre front)
HELP OUR IMPORTANT WORK, PLEASE!
Committed volunteers keep costs down. 91% of donations directly helps the children.
Use JUSTGIVING to easily raise funds for us. For whatever!
Improve the lives of children and build peace. Help by giving online.
And there's loads of other ways you can help our cause. Find out.
FOOTNOTES
Latest news from around the region compiled by Sarah Brown.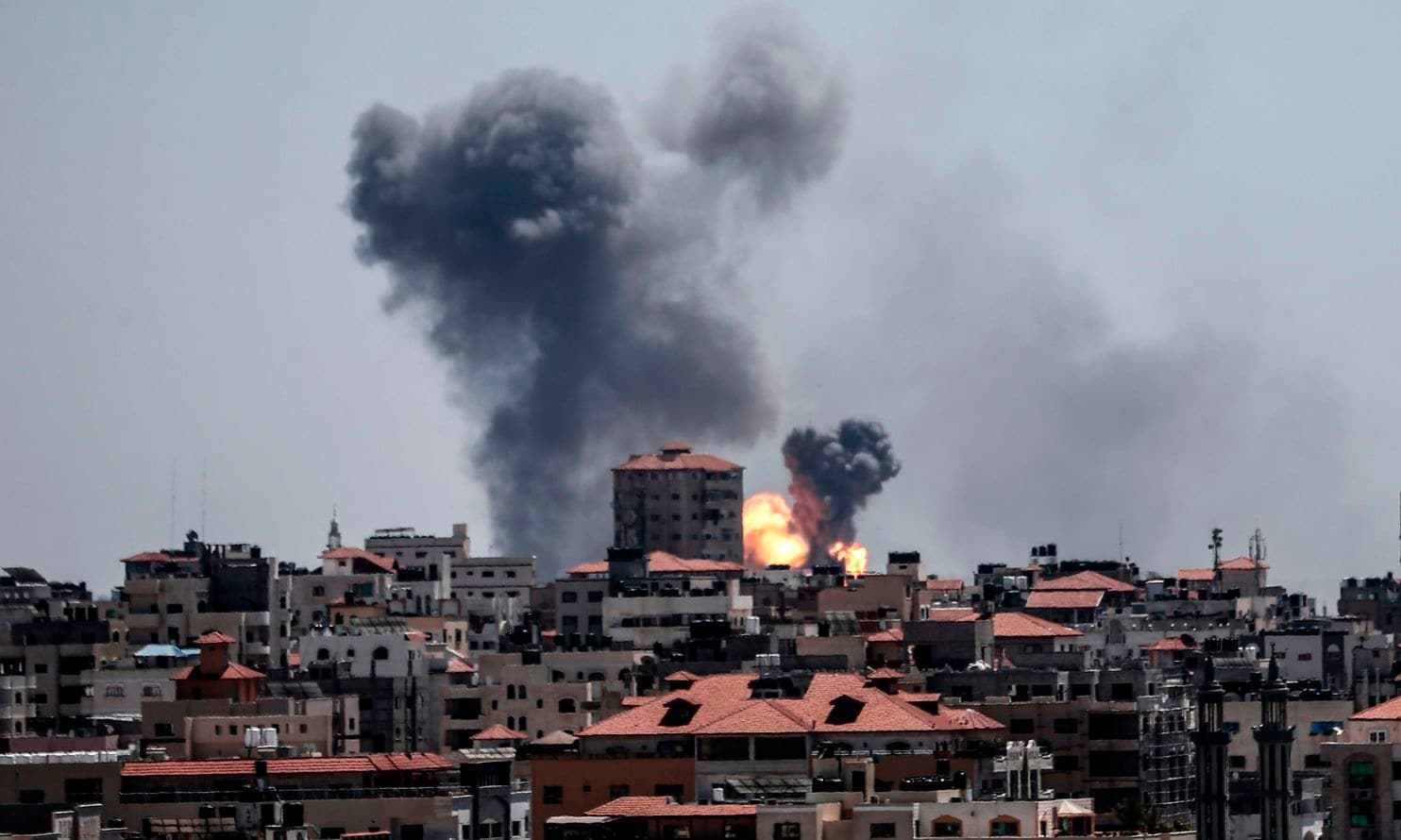 Another wave of hostilities hits Gaza and Southern Israel
Incendiary balloons and demonstrations along the border fence are threatening the tense ceasefire which followed the latest upsurge in violence, the most serious rocket attack on Israel since 2014. The causes of the recent hostilities are contested; each side, and its supporters, blame the other. Some identify rockets from Hamas as the first stage, while others point to an earlier attack by Israel on an observation post. This was carried out in retaliation for a sniper attack against Israeli soldiers near the Gaza border. All these incidents of course need to be examined in the context of months of unrest and many deaths.
Although Israel's Iron Dome successfully intercepted many rockets, four Israeli citizens were killed and many more injured. It is reported that 27 Palestinians have died, including a pregnant woman and her baby who were killed accidentally when a rocket from the Palestinian Islamic Jihad group misfired.
Despite this recent violence, talks between Hamas and Israel are continuing behind the scenes. These are being brokered by Egypt and aim to secure a permanent ceasefire. Israel is seeking an end to border attacks and Gaza hopes for an easing of restrictions on imports and an extension of its fishing zone. A promised injection of funds from Qatar offers a further incentive for Gaza. However both sides have cast doubts on whether the other is upholding their commitments.
Reviving a Palestinian Cuisine
The Palestine Hosting Project seeks to research and revitalise traditional Palestinian cuisine. It was founded by Mirna Bamieh after she noted that the repertoire of food on offer in the West Bank city of Ramallah seemed very limited. The project works by focusing intensely on a single town, family or ingredient at a time, before producing a celebratory meal, encapsulating this investigation, for invited guests. Although hospitality is central to Arab culture, Bamieh argues that the recent history of occupation has tended to place Palestinians in the more passive role of guest.
And subtle pressures – such as restrictions on foraging – have made it more difficult to nurture this aspect of Palestinian culture. However the Hosting Project is enabling more young Palestinians to find out about their heritage and explore forgotten recipes, as well as experiment with sophisticated, modern versions of classic dishes.
You can read more about this initiative.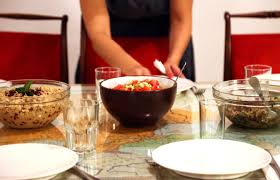 Attempts to boycott Eurovision in Tel Aviv
Following last year's victory for Israel's Netta with 'Toy' the 2019 Eurovision Song Contest is to be held in Tel Aviv. Debates around the competition's location have so far produced more heat than the singing competition itself, with the predictable production of petitions to boycott the contest, and counter petitions asserting that such a move would be divisive. Celebrities have also been lining up on both sides of the debate. While Madonna has agreed to perform in Tel Aviv, other stars, such as Roger Waters, are calling for a boycott.
Opposition might have been still stronger had the contest been held in Jerusalem. Within Israel itself, some strictly Orthodox groups have expressed concerns over rehearsal times which clashed with Shabbat. Among those tipped as possible winners this year are the Netherlands' Duncan Laurence and Russia's Sergey Lazarev.
Low Arab turnout in Israel's elections
Although most attention was focused on the contest between the two clear front runners – Netanyahu's Likud Party and Benny Gantz's new Blue and White Alliance – Israel's recent elections saw a striking fall in the participation of Arab Israelis at the polls. A report issued by the Israel Democracy Institute indicates that whereas in 2015 nearly two thirds of Arab Israelis turned out to vote, in 2019 fewer than half did so. Although this figure is contested, some commentators have claimed this is the lowest Arab turnout in Israeli history.
A significant cause of this unwillingness to participate is thought to be the new nation-state law, widely perceived as sidelining the country's Arab citizens. As The Times of Israel reported:
"Many Arab leaders have panned the legislation, with some going as far as to call it "racist." Tens of thousands of Arab and Jewish Israelis also participated in demonstrations against it, in the weeks following its passage."
The controversial deployment of recording devices at polling booths in Arab neighbourhoods is another likely factor.
However in more positive news Gadeer Mreeh (pictured below), an Israeli news anchor, became the first female Druze Member of Knesset. Mreeh, a vocal opponent of the nation-state law, is aligned with the Blue and White Alliance.