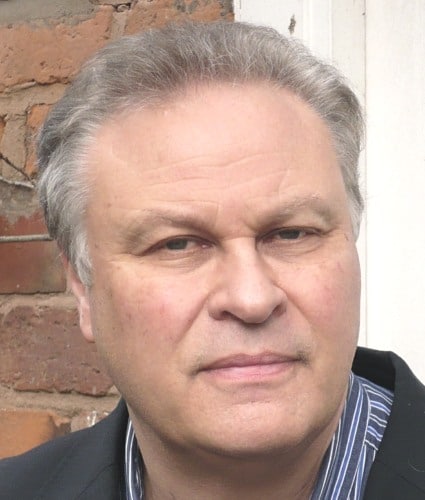 On 1 June 2018, 21 year-old Gazan paramedic Razan al-Najjar was shot dead at the Gaza/Israeli border whilst tending to injured Palestinian protesters. Each year we honour her memory through the Children of Peace Razan al-Najjar Nurses Bursary Award in partnership with the Palestinian Nurses Association, Gaza.
This year our second Award Ceremony took place on 23 October 2019 at the al Israa University, Gaza where more student nurses received our Bursary.
In a remarkable and moving chain of events, Razan's mother Sabreen recently gave birth at a Gaza hospital.
And the nurse who cared for her throughout – Ansam – was one of the nurses trained last year through the Bursary. A beautiful symmetry.
We carry out our work for peace and reconciliation without funding from governments or international agencies. Our support comes from the generosity of people around the world, from philanthropists to individual donors. Your support can transform the life of a child of conflict and help to build bridges between communities reaching out for peace.
Please help us in our work for peace and the protection of the children with a regular or one off amount… DONATE NOW
Richard Martin FRSA, President & Founder.
This time round we have…
Nurses Bursary ceremony.

A new Friend and a new Affiliate join us.

Interview with Orna Raz.

Plus Jesseca's missive and Footnotes.
"Blind hatred leads only to a world of greater darkness."
There are new recipients of our award, given by the Palestinian Nursing Association.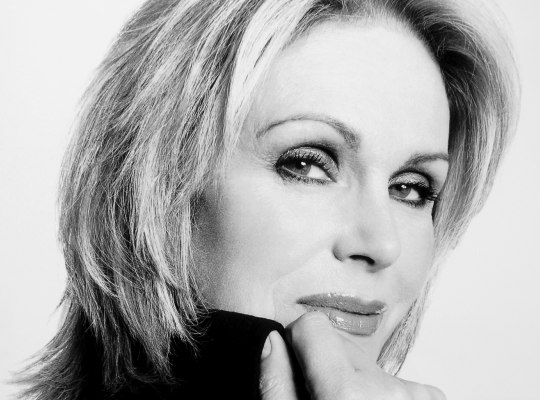 We are delighted to welcome a new, distinguished Friend of Children of Peace.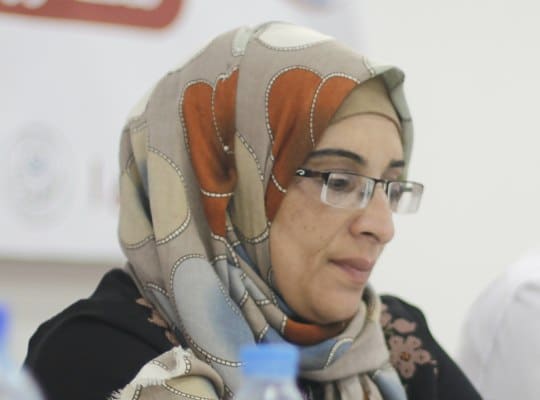 In the latest of her despatches, Dalia Al-Najjar conducts an interview.
2019 Children of Peace Razan al Najjar Nurses Bursary Award
On 23 October our Bursary Award Ceremony took place at the Al-Israa University Gaza. In this report Ola Shalayel and Ayoosh al Sisi of the Palestinian Nurses Association Gaza tell us more.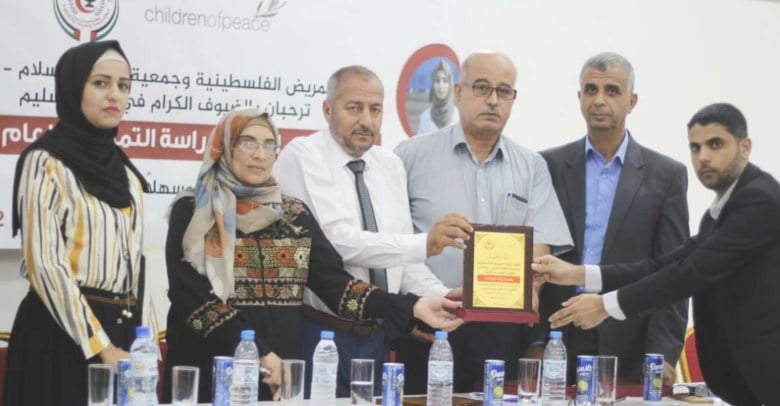 The Palestinian Nursing Association held the ceremony of handing over Razan Al-Najjar Bursary to the nursing students for the second year. This is with the support and funding of Children of Peace in cooperation with the University of Israa, the Islamic University and the University College of Applied Sciences at the headquarters of the University of Israa in Gaza. With the presence of participating universities and the families of students and scholars and members of the Palestinian Nursing Association.
The ceremony began with verses from the Holy Quran. Then the speech of the President of the Nursing Association Mr. Khalil al-Dikran, in which he thanked Children of Peace and its President Richard Martin for his support and for naming the Association one of "their main partners in Palestine". He also thanked Miss Dalia Al-Najjar the Bursary Coordinator. He also thanked the universities for their commitment and cooperation as well, he thanked the families of Razan Najjar represented by her mother Sabreen Al-Najjar for her presence and the family's support to the Bursary. He promised to continue to communicate with international organisations to support Palestinian nurses. 
In a speech to the Dean of the Faculty of Health Professions at the Israa University Dr. Taleb Abu Mualla welcomed the guests and the parents of the students and thanked all those who planned, supported and implemented the Bursary. 
Mr. Richard Martin, President of Children of Peace sent a message that was read by Mr. Farhat and who spoke about his pride in supporting the Palestinian people. He said that the grant is a tribute to the memory of Razan. He commended the Palestinian Nursing Association and the project coordinators for their efforts in the success of the Bursary.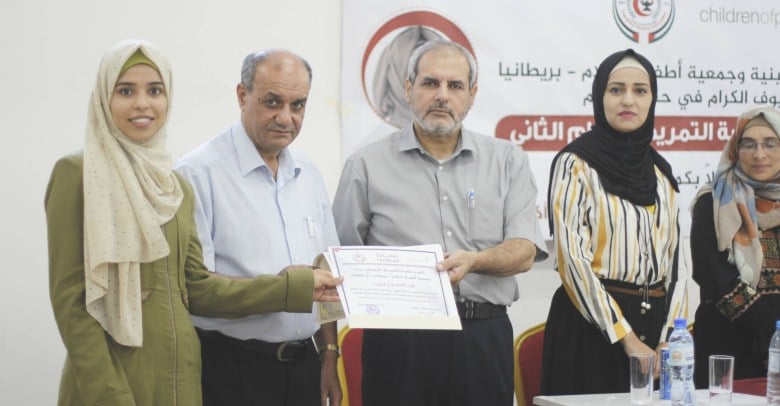 Sondos Salem, one of the Bursary awardees in a speech on behalf of Bursary awardees, she praised Children of Peace and thanked the Palestinian Nursing Association and the universities on their efforts. She pledged to continue to keep up her hard work to be able to give back to the community. 
In her speech, Sabreen al-Najjar the mother of Razan, thanked all those who supported and assisted the nursing students to achieve the dream of Razan, and that her family is proud of the Bursary. She called on the students to follow the example of Razan and to provide assistance to all the Palestinian people in all locations.

LEADING BRITISH ACTRESS JOANNA LUMLEY JOINS US
We are delighted to welcome Joanna Lumley OBE as a Friend of Children of Peace.
"I am proud and happy to become a Friend of Children of Peace. I wholeheartedly endorse all that you stand for and applaud all that you do."

Joanna Lumley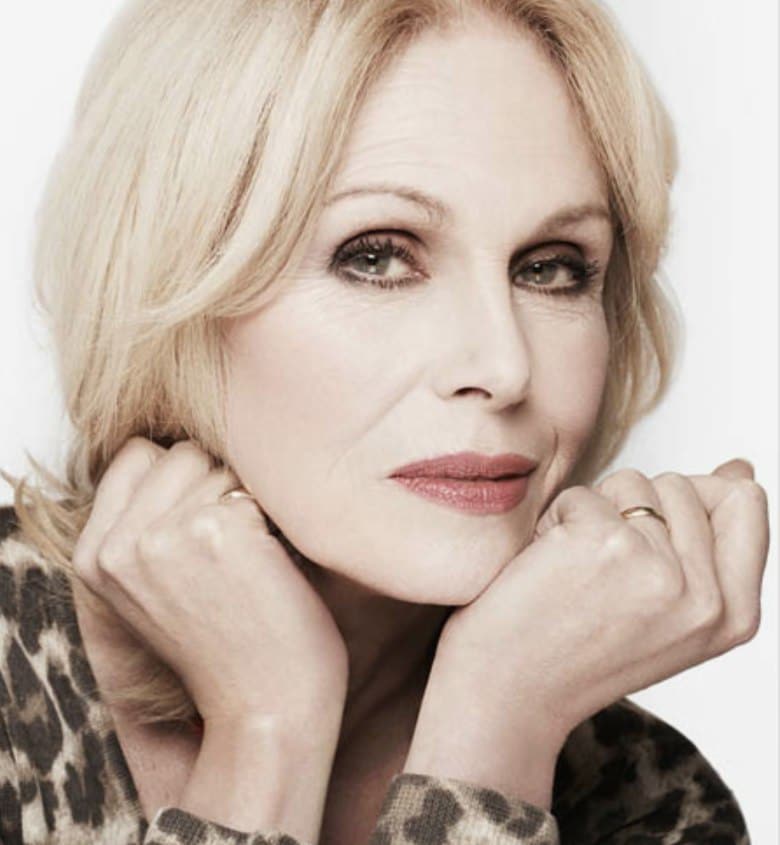 Photos credit: Rankin
Joanna Lumley OBE FRGS is an English actress, former model, author and activist. She is the recipient of three BAFTAS Awards, a Tony Nomination for Best Featured Actress in a Play, the Special Recognition Award at the 2017 National Television Awards and the BAFTA Fellowship Award for her work on screen and stage.
In her many stage appearances she has worked with Harold Pinter, Alan Ayckbourn, Trevor Nunn and Jonathan Miller. She played the legendary character Patsy Stone in Absolutely Fabulous until 2012 and stepped back into the role in Absolutely Fabulous: The Movie in 2016.
Her other TV credits include The New Avengers, Sapphire and Steel, Coronation Street and thirteen travel documentaries; on film, On Her Majesty's Secret Service, Shirley Valentine, James and the Giant Peach, Ella Enchanted, Corpse Bride and The Wolf of Wall Street among many others. Joanna is also an advocate and human rights activist for more than seventy charities, and is known as 'daughter of Nepal' for her continuing work with the Gurkhas.
DALIA TALKS TO RAZAN'S MOTHER SABREEN
Our Gaza correspondent and Bursary Co-ordinator Dalia al-Najjar has a moving interview with Sabreen al-Najjar, the mother of Razan. For the second year, Razan Alnajjar Bursary continues to support female nursing students in Gaza.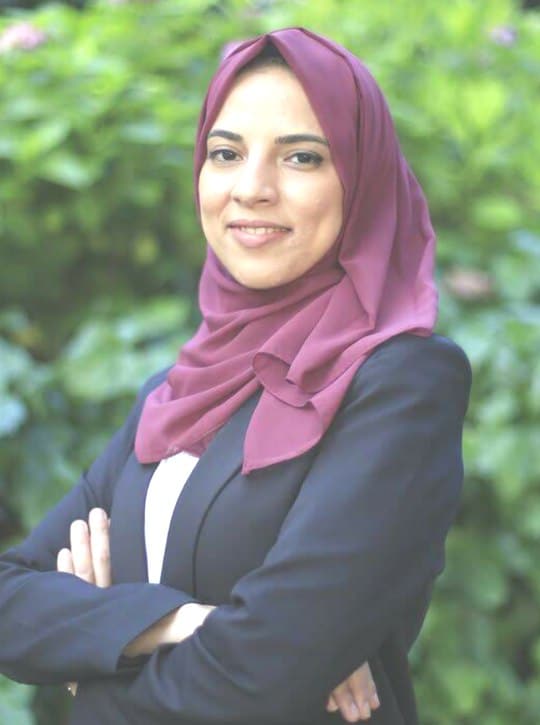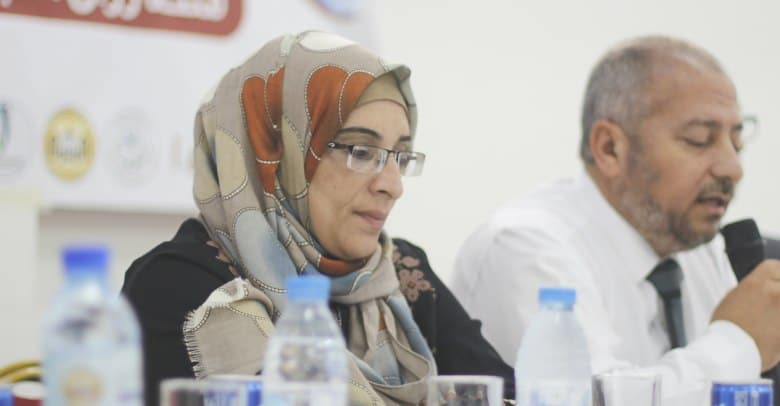 Dalia: Thank you so much for taking the time to talk to me. And congratulations from me and everyone at Children of Peace on your new baby. I know you are so tired and you just got out of the hospital and we appreciate this so much. How are you feeling and how's your family? 
Sabreen: Not at all, I am so glad to be talking to you.
Thank God I am feeling better now and the baby is doing great. We named him Abdullah and his ten days today and we are praying for him to grow in more peaceful days. We are feeling blessed and we are all excited to have him. Rean [Razan's sister] is now in her sophomore year in general nursing and she started interning at the hospital and she's happy that she's continuing where Razan stopped. 
Dalia: I am sure the readers and I join you in this wish. You attended the Bursary Ceremony despite the labor pains you were in. This shows how committed you are to the Bursary. How did you find the ceremony this year?
Sabreen: The Bursary means a lot to me and my family.
We take significant pride in it, no amount of pain would have stopped me from going to see new students living Razan's dream and living it while appreciating Razan and her values. The values she paid her life to spread.
The values of peace, hope, and freedom.
I honestly forgot about my pain when I saw how happy and appreciative the students were at the ceremony. This year's ceremony was bigger than last year and we are so happy that the Bursary helped new students. I cannot express my gratitude to Children of Peace and everyone who worked hard to make this Bursary happen. And of course to the donors who believe in Razan's message and they believe that her legacy will live on. 
Dalia: You are such a strong and inspiring woman. We take pride in the Bursary as well and we aspire to expand it to help more students every year. Would you like to share anything else about the bursary?
Sabreen: I cannot thank everyone behind the bursary enough. Thank you from the bottom of my heart.
When I was at the hospital, Ansam, one of the partial bursary awardees who graduated and now working at the hospital stayed with me the whole time. She took such good care of me after I suffered from post-delivery complications. When I saw her there I felt so happy to see that the bursary is touching so many lives.
I want to thank all those who are going to read this, thank you for reading, sharing, and donating – everything you do matters. We should all keep fighting peacefully for the noble values nurses carry.
I feel that all of you are here with my family, you all gave us your hands and made us feel that we are not alone. We are a community, a loving and supportive one.
Dalia: Razan is an icon and a role model for thousands of young women around the world. And we promise you to keep her memory and legacy in our hearts and minds and we will keep working to honour her. Do you have a message for our readers?
Sabreen: Yes, she is and I want to emphasise that Razan's home is always open to all people of all colours and beliefs.
 We believe that what binds us is our humanity. Our home has welcomed people from every religion and we have friends from every religion. It's all about what we hold dear in our hearts. How we look and dress isn't important. Our message is a message of love and brotherhood. We can do anything with peace and faith, not with weapons.
Dalia: Thank you so much for your time, and again, congratulations from everyone.
Mrs. Alnajjar said, "Thank you, our love and hope to everyone." And she asked me to send special thanks to Richard Martin, President and Founder of Children of Peace for everything he did, and is doing, to preserve the memory of Razan. She wished she spoke English to thank him personally. 
VOICES FROM ISRAEL
In her regular series, Israeli writer and the Director of Foreign Relations Geneva Initiative, Jesseca Manville discusses the impasse caused by the inconclusive Israeli elections.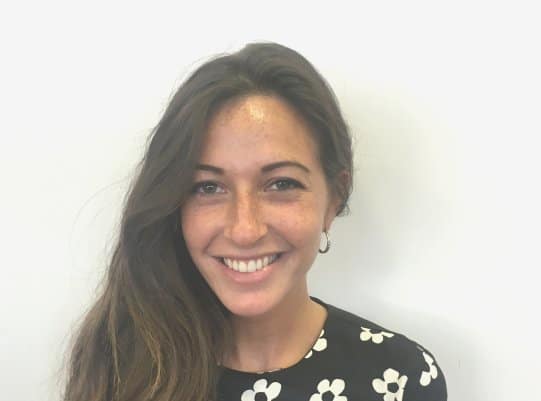 For almost a year now, Israel has been run by a caretaker government. Having been handed the mandate after Benjamin Netanyahu's failed attempt to cobble together a viable coalition, Benny Gantz's chances are appearing equally and unnervingly slim. The ongoing political impasse has led to feelings of disillusionment, apathy and frustration across Israeli society as the impact begins to permeate.
"The political plunder makes me feel that we do not have the courageous and strong leadership that is ready to flex its political ego for the general public interest," said Maya, a civil society activist. "If no government is established, the state will be paralysed. I don't feel like politicians are for the people – all they want is power."
As the prospect of a third election becomes increasingly likely, many have begun to ask themselves if this is really the answer to break the stalemate? Not only will another election cost the government millions of shekels, there is the added concern of lower turnout due to a renewed disillusionment with those in the political echelons.
As a Healthcare professional there are many budgets and decisions that are stuck due to the fact there is no operating government. This hurts us as well as current and future patients. We can't plan ahead and we find ourselves in a complicated situation. Uncertain times puts public systems under a lot of pressure. "When it comes to health the toll, the consequences may very well be grave," said Lior, who is feeling the impact within the hospitals of Israel.
And turning to the matter of peace. the US Middle East Plan has been stalled for months, with its publication hinging on the formation of an Israeli government. Therefore, the ongoing paralysis around renewed attempts at bringing the two parties – Israelis and Palestinians – back to the negotiating table remains firmly static. Whilst positive work continues to happen on the ground, the lack of movement at the political level feeds into a lack of hope that has seen a peace process stalled for five years.
The absence of a fully functioning government with a political mandate creates even more instability and uncertainty vis-a-vis Israel's future relationship with the Palestinians. "Key decisions regarding annexation or negotiation, as well as a large-scale military operation or humanitarian rehabilitation of the Gaza Strip are being put on hold – at the expense of the human beings who live in the region," said Darren, a political activist.
Israel needs a government quickly; the continued gridlock is only hurting it.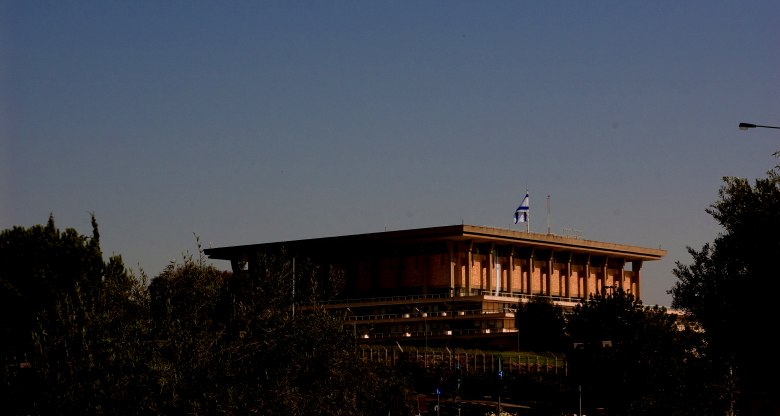 PALESTINIAN GROUP SHAMS AFFILIATES
Palestinian group SHAMS – dedicated to protecting vulnerable Palestinian children from domestic violence – has joined our Coalition of Peace as an affiliate. Our Coalition of Peace is now the single, largest peace network across the Middle East and North Africa.
Here Founder Safa Darwish tells us more about their vital work.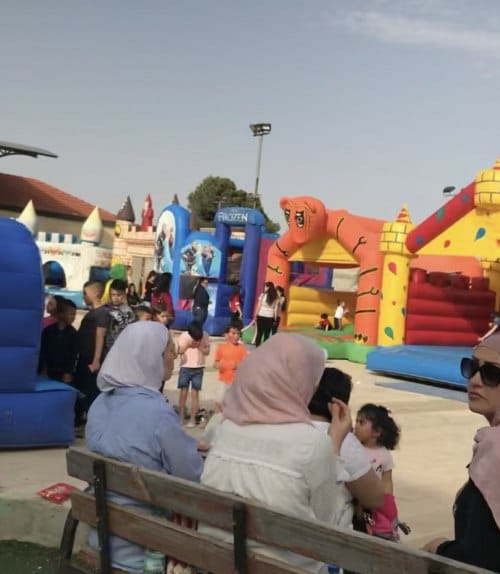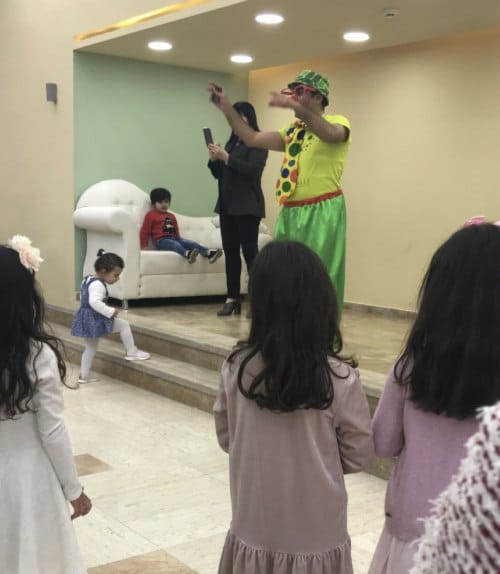 Located at Dheisheh camp, Bethlehem, at Beit Jala city, Shams organization started as an individual idea a few years ago. It was a reaction to the domestic violence cases that are increasing against what is expected, as with the technological development that happens in the world, awareness is supposed to be higher specially when dealing with children.
I started telling my friends about my idea of raising the awareness of the parents through educating them about the right ways of anger management and stress control when it came to dealing with children. My friend, who is a social worker supported me and started working with me on having deep and personal conversations with mothers who we see beating or screaming at their children.
Then, the idea expanded to connecting with these children and working on their mental and psychological base. We believe that it was the core to making a healthy human being in the future. Our activities ranges from playing time, which is known in its ability to take away the negative feelings and thoughts, to having professional sessions with children who go under domestic violence. And educating parents about the rights ways of dealing with children and raising the awareness through workshops that parents attend.
All of our commitment and work is done with few person's personal effort, places and budget, and we hope that in the future this project can take its value in the Palestinian community where we help to stop or decrease the domestic violence cases with a group of professionals in this field.
Children of Peace President and Founder Richard Martin FRSA says:
Everyone at Children of Peace applauds the dedication of Safa and her team, protecting and safeguarding vulnerable children. It is noble and necessary work.

… is a unique peace network with affiliates on every continent, and especially in Gaza, Israel, Jordan, the West Bank and Turkey.

THE CHILDREN OF PEACE INTERVIEW: ORNA RAZ
In the latest in her series of interviews Children of Peace Trustee Professor Sarah Brown talks to Orna Raz on the work of Israeli affiliate Women Wage Peace.
Sarah Brown: Can you tell us about some of the experiences which led to your involvement with Women Wage Peace?
Orna Raz: Soon after the beginning of the war in Gaza in 2014 I attended a rally in the Arab town of Tira.
The theme of the rally was Arabs and Jews refuse to be enemies. One of the speakers, an Arab woman, talked directly to the women in the audience and said, what many of us knew, that not a single woman from Gaza, or from Israel, was involved in the attacks, but that it is always the women who pay the price for men's war.
Although the rally did not stop that war, I knew that I had to do something, Soon afterwards I read on Facebook about the new movement `Women Wage Peace' and I became a member.
Sarah Brown: Can you tell us something about the kind of women who become involved in Women Wage Peace? Do they share similar political perspectives or do they have very different visions for achieving peace in the region?
Orna Raz: WWP in a grassroots movement and we have women from all over the country.
From different backgrounds, there are women from cities, Kibbutzim, Moshavim, Arab women, religious women etc. Naturally like in every peace movement most of our core activists are not young. Unfortunately, young people have no time or money to be active, they are too busy studying, working, raising children etc.
Sarah Brown: In August, Women Wage Peace organised a Journey of Hope which began in Jerusalem and ended in Sderot. Did you experience significant changes in the way people viewed this initiative as you moved between regions?
Orna Raz: To be honest that in such a short time it is possible to make a change.
 Rallying in the south of Israel could not make the life of the people who live easier. But when we were in Sderot, on the last night on the Journey of Hope, the local people told us: "we know you, we saw you several times, thank you for coming again and we appreciate your solidarity".
In Ashdod some days earlier we had encountered local people who wanted to pick a fight with us. They started shouting and making threats. Our several brave and determined women from the movement engaged in a conversation with them, and there was a feeling that perhaps a dialogue could be possible.
Sarah Brown: What is your opinion of the 2017 anti-BDS legislation which prevents supporters of boycotts from gaining entry to Israel?
Orna Raz: I would like everyone to visit Israel, it is important.
 But at the same time I am against a boycott of Israel, it hurts many good people who work for peace. In my opinion the BDS is unfair and it is a form of collective punishment.
Sarah Brown: Could you tell us something about your connections with women in the West Bank and Gaza? What are the challenges facing women from these communities who wish to promote your message?
Orna Raz: For several years I have participated in the activities of the Parents Circle.
Through them I have met friends from the West Bank. Within our movement I am a member of the team for cooperation with Palestinian women. But it is important to remember that Women Wage Peace works within Israel, we have supporters outside Israel, but our main goal is to constantly remind our leaders that they should strive for a diplomatic agreement with our Palestinian neighbours."
The Children of Peace Interview covers a range of viewpoints regarding the Israeli-Palestinian conflict, and may not necessarily reflect that of Children of Peace.
PLEASE SUPPORT OUR RAZAN AL NAJJAR NURSES BURSARY, GAZA
The Razan al Najjar Nurses Bursary is an annual Children of Peace Award and will be granted in August each year in partnership with the Palestinian Nurses Association, Gaza.
The Bursary is in honour of the memory of Razan al Najjar, a 21 year old Palestinian paramedic shot dead during the Right of Return protests at the Israeli-Gaza border 1 June 2018.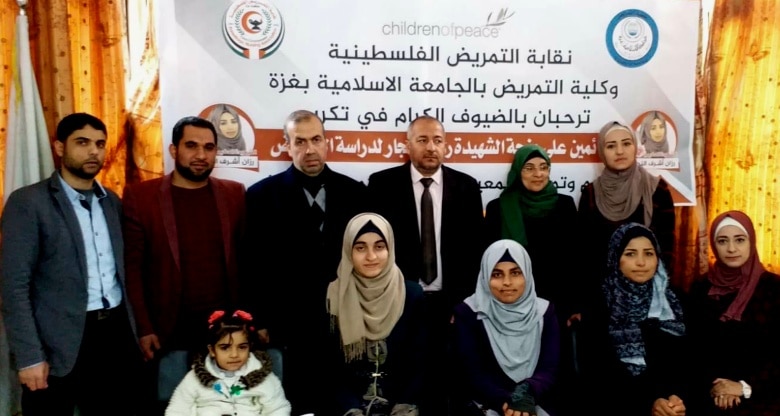 Razan al Najjar Bursary presentation with recipients (centre front)
FOOTNOTES
Latest news from around the region compiled by Sarah Brown.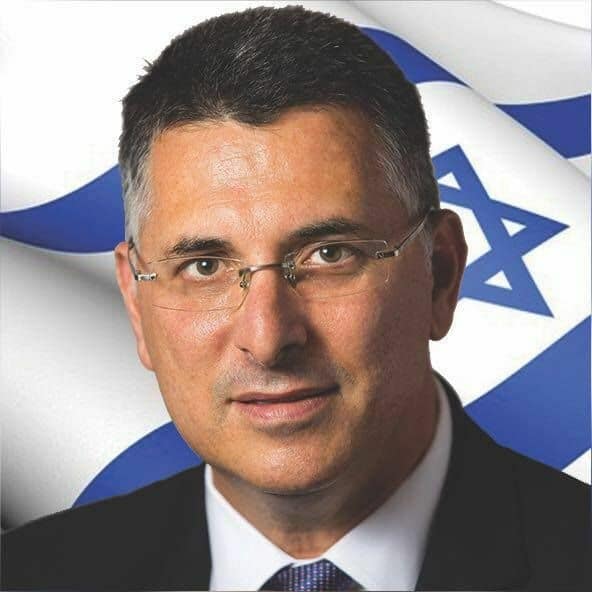 Political stalemate continues as Netanyahu faces charges
September's election failed to provide a conclusive result and neither Prime Minister Benjamin Netanyahu nor opposition leader Benny Gantz (pictured here) has managed to form a government. To increase the turmoil, Netanyahu has now been indicted on charges of bribery, fraud and breach of trust. Among the accusations are claims that he accepted many valuable luxury gifts and offered favours to journalists in return for positive coverage.
It's not only his status as Prime Minister which is in jeopardy. He now faces a challenge for leadership of the ruling Likud party from Gideon Sa'ar, the education minister. Sa'ar is trying to initiate a snap primary and break the political deadlock. His aspiration is to form a unity government with Gantz in order to prevent the need for a third election within a single year.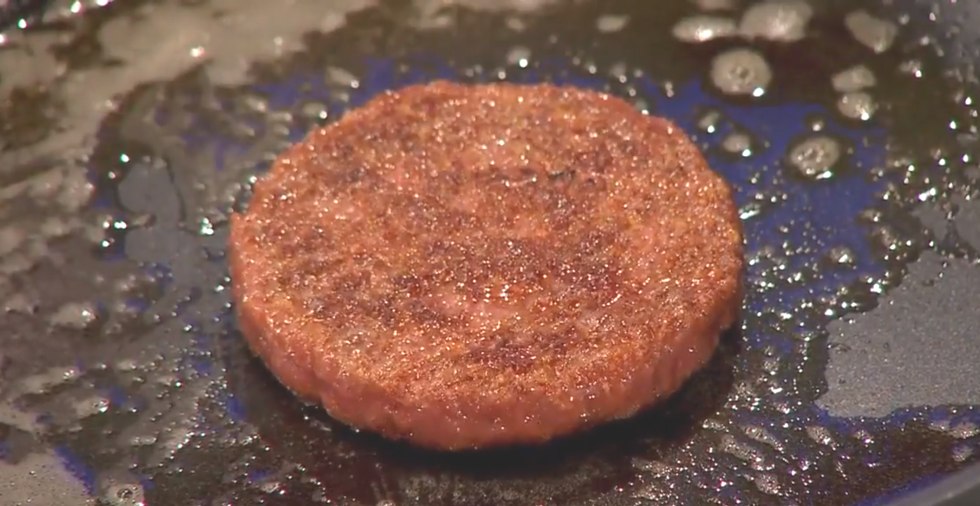 Israel leads the way in lab-grown meat
Artificially cultured meat was once the stuff of science fiction. But concerns about animal welfare and the environment, combined with technological advancements, mean that it may soon be a viable option for consumers. In the past costs have proved prohibitively high, but recent advances mean that the price of lab-grown meat could come down to under $10 a pound.
Future Meat Technologies, an Israeli startup company, has recently announced that it is to open a factory near Tel Aviv – the world's first cultured meat pilot production facility. The meat will be created directly from animal cells and the taste – it is claimed – will be indistinguishable from conventional meat. There are also plans to devise hybrid products which combine plant proteins with animal cells. The company hopes to begin operating in 2020.
Palestinian photographer turns to wire sculpture
Haitham Khateeb is a photographer based in the village of Bilin (pictured below) in the West Bank who has turned to sculpture in order to create more lasting reflections of Palestinian daily life. He recycles metal wire into images of the people and landscape around him – whether of peaceful olive harvests and other farming scenes or of refugees, prisoners, and confrontations with Israeli soldiers.
It was such conflicts which sparked his initial interest in photography – back in 2005 he wanted to capture the local protests held against Israel's separation wall. He took his camera along to to the demonstrations and then sent his pictures to the press so that the world was able to see what was happening in his village. He is now preparing for his first exhibition and hopes to have the opportunity to create larger works to be placed in public squares.